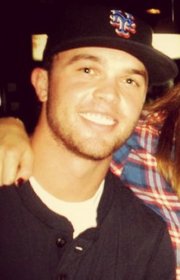 At 5-foot-4, Travis Sanders was never the biggest player on the baseball field.
But people who knew him said the former Lawrence High School athlete, who died in a weekend traffic accident, was anything but slight in the way he played and as a person.
LHS head baseball coach Brad Stoll said the modest Sanders was on standout football and baseball teams and didn't always get a lot of credit. But he didn't care.
"He just wanted to be a part of the success," Stoll said. "He just had a tremendous desire to compete — without all the accolades and the attention."
Sanders, 23, was driving north on Interstate 35 shortly after 7 p.m. Sunday, when he hit a deer near milepost 163 in Osage County, according to a preliminary report from the Kansas Highway Patrol. He got out of his disabled vehicle, leaving it partially in the left lane and partially in the median.
An SUV driven by a 21-year-old Leawood man tried to avoid the stalled vehicle by driving into the median but struck Sanders, who died at the scene, according to the patrol's report. The driver of the SUV, as well as his 22-year-old female passenger, were not hurt.
After graduating from LHS in 2008, Sanders played baseball two years at Pratt Community College, Stoll said. After that he went on to pursue a degree at Emporia State University.
Sanders was working as a special education paraeducator at South Middle School, where, Stoll said, he last saw him on Thursday. Sanders hoped to become a Lawrence police officer, and talked to Stoll about the timeline for getting into the academy.
Ty Scheibler, a Lawrence police officer whose late son was one of Sanders' close friends, said he could've seen Sanders as an officer.
"He would have made a great one," Scheibler said. "He was level-headed, he was smart ... he was a people person."
Scheibler's son, Preston, died in an ATV accident two years ago. Scheibler said plans were underway to bury Sanders adjacent to his son at Memorial Park Cemetery.
Stoll recalled Sanders' senior year at LHS, when he tore his ACL during a football game but pushed his way back in time for the second half of his senior baseball season.
"It broke his heart that he couldn't finish out the season," Stoll said. "He rehabbed and worked his tail off to get back ... he was such a true Chesty Lion — he wanted to play no matter what."
A visitation for Sanders is planned for 6 to 8 p.m. Thursday at Rumsey-Yost Funeral Home, 601 Indiana St. A memorial service is planned for 10 a.m. Friday at Lawrence Free Methodist Church, 3001 Lawrence Ave.
Copyright 2018 The Lawrence Journal-World. All rights reserved. This material may not be published, broadcast, rewritten or redistributed. We strive to uphold our values for every story published.