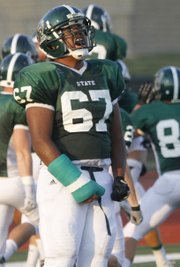 Tyler Sampson didn't think much of the injury at the time. One of the Free State High football team's senior linemen, Sampson blocked a teammate during a preseason practice and felt some pain in his right wrist. He just kept going, though. No reason to stop practicing, he figured.
Once the session ended, the right guard had to get his wrist checked out by a doctor. Sampson learned he had torn ligaments.
"I guess I just hit someone in the wrong place," Sampson said, recalling how the injury occurred.
The worst part of the tear wasn't the pain. It was the news that Sampson must wear a cast as part of the healing process. He had no interest in missing a game, so it didn't take him long to decide to play with a bandaged hand and figure the rest out as he went.
"This is my senior year. This is a big year, too," Sampson said. "We want to go to state, and I want to contribute and give it my best shot and get better."
The decision pleased FSHS coach Bob Lisher, as well as Sampson's teammates.
"He's a tough kid," Lisher said. "Put a cast on it. Here we go. Just keep playing."
It took the whole week leading up to the Firebirds' season opener against Shawnee Mission North for Sampson to get used to his new, encumbering accessory.
"I had to get ready fast," he said.
From a football perspective, the first thing he initially had to overcome was his stance and how he placed his hand on the ground before exploding up and forward play after play. That didn't take long. Next came figuring out how to block, because he couldn't bend his right wrist.
"It messes you up a lot," Sampson said. "You have to get an extra step, you have to move faster to get set."
The 6-foot-3, 265-pound lineman figured that part out, too, and he was on the field, wearing his No. 67 FSHS jersey and contributing once the season kicked off, in spite of his injury. The toughest part of his day came during classes, trying to write and type with the cast.
Center Reid Buckingham said the Firebirds — 7-1, ranked No. 2 in Class 6A by Kpreps.com entering Friday's City Showdown with rival Lawrence — appreciated how Sampson adjusted to his injured ligaments.
"That can definitely be painful, and the fact that he played almost the entire season hindered a little bit was definitely impressive," Buckingham said. "We're all proud of him and glad that he's back to normal now."
Sampson smiles just thinking about getting the cast removed prior to Free State's district-opening victory over K.C. Wyandotte on Oct. 18.
"It made me a lot more agile with my hands," he said of the most obvious difference since switching from a cast to a splint. "I was able to bend my wrist, able to grab on to people and lock up."
Lisher could tell Sampson was happy to be rid of the cast: "You can't hold as an offensive lineman with a cast on," he said, laughing.
Firebirds quarterback Joe Dineen has been glad to have Sampson in front of him all season.
"He works really hard. He wants to be good. You can tell," Dineen said. "Even the stuff he does mess up on, you can tell it's not effort. He gives all the effort."
Right guard might not be a position that garners much glory, but Sampson said the praise he and fellow linemen Buckingham, Shane Hofer, Scott Frantz, Josiah LeBrun and Coleman Houk receive from Dineen and other skill players is all he needs.
"I try to go hard every single snap I can," Sampson said. "I like knowing that, especially on pass plays, that if a 'backer is coming off the edge, I can come up, and I can give Joe an extra second to throw, an extra second to think."
Copyright 2018 The Lawrence Journal-World. All rights reserved. This material may not be published, broadcast, rewritten or redistributed. We strive to uphold our values for every story published.