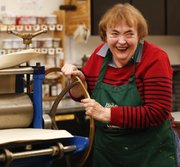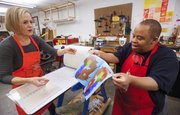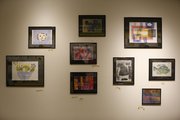 With a little prompting, Kathy Aaron slowly turns the wheel of an intaglio press in the Lawrence Arts Center printmaking studio.
Aaron beams when her helper, Cottonwood Inc. staffer Andrea Rogers, displays the colorful results.
"Oooh, wow," Aaron says. "I did that!"
Every weekday, participants in Cottonwood's Retirement Enrichment Services program can be found engaging in leisure or learning activities of their choosing. The day program is for intellectually disabled adults like Aaron, who are over the age of 62 and retired or working part-time.
"Especially after a long life, you want to decide how you want to spend your time in your old age," said program coordinator Micki Self-Loveland. "And having an intellectual disability shouldn't limit those options."
Cottonwood Inc., a not-for-profit organization based at 2801 W. 31st St., helps disabled adults with living arrangements, job placement, volunteering, learning and recreational opportunities.
The Retirement Enrichment program, which has about 25 participants, is geared toward older adults, who have varying levels of mobility and energy, Self-Loveland said. The program offers a variety of options and allows participants to choose which ones they want to do.
Some activities happen at Cottonwood, such as breakfast and coffee, arts and crafts, watching movies and playing games. For other activities, participants get out into the community, including lunch at Douglas County Senior Services, music therapy with Kansas University students and visits to the Lawrence Public Library.
On Thursday afternoons, interested participants — like Aaron, who participated this week with several other retirees — visit the Arts Center for printmaking.
Colorful art they have created is featured in the Retirement Enrichment art show and sale, on view in the Arts Center's lower level until Nov. 28. This year's theme is "World Inspired; Community Created."
The annual sale is not a fundraiser for Cottonwood, Self-Loveland said. The artists themselves, some of whom have limited financial resources, get to keep profits from the works that sell.
However, she said, the main goal isn't to make money. Financing is a challenge for the Retirement Enrichment program, she said, but so is community awareness.
"We want everyone that we serve to be seen with dignity, and sometimes that's not what they experience," she said. "We see this as an opportunity to allow the people that we serve to really shine in the community."
Copyright 2018 The Lawrence Journal-World. All rights reserved. This material may not be published, broadcast, rewritten or redistributed. We strive to uphold our values for every story published.