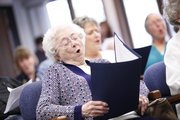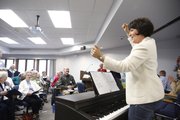 Upcoming fall 2013 Osher Institute classes:
"Cowboys, Indians, and Homesteaders: Tracing Kansas' Folk Icons," beginning Nov. 5.
"Kansas at the Crossroads: The Future of Energy and Water Resources," beginning Nov. 6.
"Melville, Whitman and the Civil War," beginning Nov. 7.
"Politics vs. Policy: The Realities of Welfare, Education and Healthcare Policy in the U.S.," beginning Nov. 11.
"Caravaggio: His Life, His Work, His World," beginning Nov. 27.
For more information, course descriptions or to enroll in a class, visit http://www.continuinged.ku.edu/osher/northeast.php#lawrence.
The Osher Institute is located in the Kansas University Continuing Education building at 1515 Saint Andrews Dr.
When Hilda Enoch retired, she didn't quite know what to do with herself.
Instead of lounging away her days, she wanted to use her newfound free time to grow and explore new opportunities. It was her career that had ended, not her life.
Enoch started enrolling in classes at Kansas University's Osher Lifelong Learning Institute, which offers a wide variety of courses to community members of all ages who crave knowledge but don't need a degree.
Having never taken a music class, Enoch decided to take "Joyful Singing for Everyone," a course that teaches the basic elements of choir in a relaxed, easy setting. Enoch said she knew she'd learn a lot from the course, taught by professional roots R&B; singer and Lawrence native Kelley Hunt.
"I have heard Kelley sing and she's pretty famous," Enoch said. "I love to sing, and who better to learn from than someone like Kelley?"
While Enoch had taken numerous classes at the Osher Institute, other Joyful Singing students, like Marilyn McElhenie, were newcomers.
McElhenie had been holding back her burning urge to sing since adolescence years ago. In her youth, she'd led her school's Christmas caroling group, but McElhenie said that with adulthood came a new sense of reserve that hindered her from belting out the tunes that often drifted through her mind.
"I sing in the car all the time and I like to sing at church," McElhenie said, "but I'm a closet-singer and I'm too timid to join the choir."
But while flipping through the Osher Institute's course catalog, Hunt's class piqued her interest. Now, after taking Joyful Singing, McElhenie said her performance nerves have subsided.
"With Kelley's instruction, there's no room for anxiety," McElhenie said. "We're just here to have fun."
Hunt says the design of her course is ideal for people like McElhenie, who love music but have been out of the singing game for quite some time.
"No one is asked to sing alone and you don't have to read music," Hunt said. "Singing in a group should be energizing and uplifting."
Hunt, who tours the country with her band year-round, said she taught her course for the Osher Institute to give back to her hometown.
"I give singing workshops throughout the nation when I'm on tour, but Lawrence is home," Hunt said. "This was a good way to do something for my community."
Though the Joyful Singing class ended recently, Hunt says she plans to teach it again next semester.
Copyright 2018 The Lawrence Journal-World. All rights reserved. This material may not be published, broadcast, rewritten or redistributed. We strive to uphold our values for every story published.