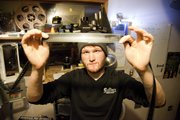 A handful of moviegoers sat down in Liberty Hall's main theater one Friday in late September for a matinee of Sundance-winner "Fruitvale Station." The 35-millimeter film projector above them clunked to life, but something had gone wrong. The picture wasn't right.
The screen went black. The projectionist leaned out of the booth and apologized. Meanwhile Mick Cottin, Liberty Hall's outgoing cinema manager, cut short his lunch and hustled down Massachusetts Street to answer the call for help. Eventually, the show went on.
Oh, the misadventures of film.
The days of film projection are numbered, but unlike many small theaters across the country, Liberty Hall will live on and become part of the digital age, tossing the old film projectors and their reels aside.
If all goes according to plan, Cottin said, that era will begin Nov. 1.
"It's been such a huge part of this building since its inception," explained Cottin, noting Liberty Hall has projected 35-millimeter prints since at least 1924. Even just a year ago, he said, all the movies the theater played were on film.
"I think everyone kind of understands that it needs to happen. That's just where the business is going," he said.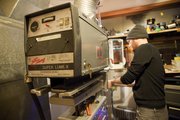 Digitize or board up
The impending digital switch is something that has worried small movie theaters all over the country during the past few years. Many can't afford taking on the costs of replacing old, analog systems with cutting-edge digital ones.
But those cinemas can't put off the conversion any longer. According to the Motion Picture Association of America, 84 percent of all silver screens operated on digital formats in 2012. That helped prod major studios like 20th Century Fox to cut off production of 35-millimeter prints, leaving theaters with the choice of digitizing or boarding up.
According to Cottin, who is ending an 11-year career as a projectionist to work at his father's hardware store, Liberty Hall got serious about the transition last August, not long after 20th Century Fox announced the switch.
If Liberty Hall were nothing more than its two screens -- it hosts concerts and other live events -- its chances of survival might have been much slimmer, Cottin said. But the theater was able to secure a bank loan to help pay for what Cottin expects will be an "initial cost" of $110,000 for two projectors, new sound processors and installation.
"We all knew Liberty Hall would be able to do it. Luckily, we are able to afford it. A lot of theaters our size absolutely cannot."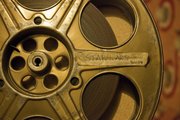 Bittersweet goodbye
As with many end-of-era times, it's bittersweet. The new digital projectors flash a better picture on screen, operate without projectionists (although nobody at Liberty Hall is losing their job over the projectors, Cottin said) and allow easier and cheaper ways of distributing movies.
But there's a nostalgic aspect to reel-to-reel film that's hard to let go.
"I like being able to see the tactile marks on a film, I like the look of an old print," Cottin said. "I'm nostalgic about it and everything, but digital is certainly superior in a lot of ways."
There's a blue-collar aspect to the job that will be missed, too: working in a cramped, warm and loud room, the film maybe catching fire.
"It's not the hardest job in the world," Cottin noted, "but there are moments of stressfulness that are unlike anything else I've ever dealt with."
Though they weren't any fun at the time, Cottin looks backs on those moments of catastrophe with fondness. He recalls one Christmas Eve where the reel of "The Life Aquatic with Steve Zissou" unspooled after an employee screening. He stayed up until 4 a.m. winding it back by hand.
"Even the day after, I was excited to tell people how much I (expletive) up."
For now, Cottin said he and other Liberty Hall projectionists hope 35-millimeter films can return someday to showcase archival prints of old movies. Those reels are only lent to theaters that can guarantee first-class care, and Liberty Hall's current projectors aren't up to that standard. The theater would need to invest in a new one, which is not financially possible at the moment.
Until then, starting next month, shows will go on without the stewardship of projectionists.
"The best projectionist is the one who goes unnoticed," Cottin said. "And now they can't be."
Copyright 2018 The Lawrence Journal-World. All rights reserved. This material may not be published, broadcast, rewritten or redistributed. We strive to uphold our values for every story published.