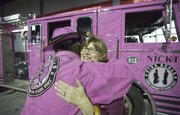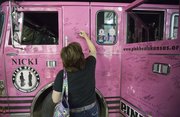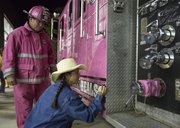 It was a festive mix of pink, orange and black at the 21st annual Stepping Out Against Breast Cancer Dance on Saturday night, as costumed cancer survivors and supporters took in a night of Halloween fun at the fundraiser for breast cancer education and detection.
More than 800 people danced, bought raffle tickets to win elaborate prizes and enjoyed sandwiches, snacks, beer and wine at Stepping Out, which was held in the used car show room of Crown Toyota Pavilion, 3430 Iowa St.
Dressed as an owl in accordance with the night's theme, "Give a hoot, give breast cancer the boot," co-organizer of the event Lisa Patrick said the turnout of attendees was inspiring.
"It's moving to see so much of the community come out to support people they don't even know," Patrick said.
Aside from all the fun, the event served a worthy cause. Proceeds will benefit the Lawrence Memorial Hospital Breast and Oncology Centers, meaning the money raised by the community will stay local.
Ruth Roy attended the event for the second time this year. A sonographer for Lawrence Memorial Hospital and nearly two-year breast cancer survivor, Roy said the event was close to her heart.
"It's wonderful that the event directly supports the community and Lawrence Memorial Hospital," Roy said. "I feel lucky in my job to be there for people during a time of fear because I've been there."
Copyright 2018 The Lawrence Journal-World. All rights reserved. This material may not be published, broadcast, rewritten or redistributed. We strive to uphold our values for every story published.