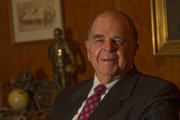 Dolph Simons Jr., editor of the Lawrence Journal-World and chairman of The World Company, received the 2013 Huck Boyd Leader of the Year Award in Community Newspapers Thursday at the A.Q. Miller School of Journalism and Mass Communications at Kansas State University in Manhattan.
Bob Schmidt and Gary Shorman of Eagle Communications in Hays received the Huck Boyd Leader of the Year Award in Community Radio.
The Huck Boyd National Institute for Rural Development and the Huck Boyd National Center for Community Media at K-State made the selections.
"These three journalists have demonstrated outstanding business leadership and commitment to their communities," said Ron Wilson, director of the Huck Boyd Institute.
The World Company publishes the Journal-World as well as newspapers in Tonganoxie, Baldwin City, Shawnee and Bonner Springs.
"I think Dolph's passion for the communities reached by his newspapers and their online news sites is remarkable," said Gloria Freeland, director of the Huck Boyd National Center for Community Media. "Dolph and his family continue to explore new technologies, but their love for journalism and their communities is unchanging."
Simons' first job with the newspaper was as a carrier when he was a boy. Simons has grown the business to include innovative ventures with cable television and online publishing. His sons Dolph Simons III and Dan Simons have joined him in the business.
The Huck Boyd Institute honors Leaders of the Year annually in several categories from among those featured on its weekly Kansas Profile radio program and column during the previous 12 months. For more information, see www.kansasprofile.com.
Copyright 2018 The Lawrence Journal-World. All rights reserved. This material may not be published, broadcast, rewritten or redistributed. We strive to uphold our values for every story published.