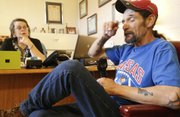 Jerry Claypool's first name went unknown to many who knew him best.
"Anybody that knows my dad, truly knows him, knows him as Squeak," said Terry Claypool, Jerry's 27-year-old son.
The origin of that name is unknown even to Terry.
Jerry D. Claypool, 51, was killed after being struck by a train near Burcham Park on Tuesday. Those who knew him say Claypool, who lived in Lawrence for about three years, was just beginning to find himself in a better place after decades of hard luck.
Claypool was featured in a June Journal-World story because he was among those to secure housing through The Salvation Army's Project Able case-management program. After working with case manager Carol Taylor to find an apartment of his own, Claypool could barely contain his emotions upon learning that he'd been approved.
"I did the jig, I was so happy," Claypool told the Journal-World in June. "Hopefully I don't have to go another winter out in the cold."
Before then, Claypool had been homeless for the better part of 28 years and often camped by the Kansas River.
Rough edges, big heart
Terry Claypool said his father was walking home Tuesday after finishing a new remodeling job on a nearby house when he was struck by a train heading eastbound on the BNSF Railway tracks. Terry Claypool said he was told that his father was seen wearing headphones just before the collision, but the he never knew his father to wear headphones or to walk along railroad tracks. "It's hard to take," he said.
Lawrence Police and BNSF officials continue to investigate. Sgt. Trent McKinley, a Lawrence Police Department spokesman, said Thursday that police are working with BNSF to access the video recording system mounted on the train that struck Claypool to determine what happened before the collision.
By Terry Claypool's count, his father had cheated death "two or three times" before, the worst being a three-story fall at a construction site about five years ago.
"That messed him up pretty bad," Terry Claypool said. "Heck, he was really rough around the edges, man, but he had one of the biggest hearts you could ever find."
Claypool will be cremated and a visitation will be held for family at 2 p.m. Saturday inside the Salvation Army's multipurpose worship room at 946 New Hampshire St. A 2:30 p.m. memorial service will follow, at which Claypool's family will welcome anybody who knew Claypool and cared about him to attend.
Salvation Army staff members remember Claypool as a fun-loving guy who, although he wouldn't sugarcoat replies to questions of how he was on a given day, always answered with an upbeat tone. Claypool often volunteered for janitorial duties, helping get the Salvation Army's building ready for Sunday services. When he attended community feedings, he'd finish his plate and quickly jump in line to help serve if he noticed a shortage in staff.
"I think for him he didn't have a home, so this was his home and so he would take care of it," said the Salvation Army's Lt. Marisa McCluer, fighting back tears.
Copyright 2018 The Lawrence Journal-World. All rights reserved. This material may not be published, broadcast, rewritten or redistributed. We strive to uphold our values for every story published.