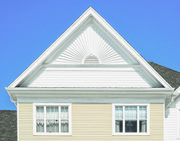 Proper attic ventilation is an important, but often overlooked, part of any home weatherization plan.
Ventilation keeps attics cool in the summer and dry in the winter. It stops moisture buildup inside the attic and under the shingles. This in turn keeps insulation dry, staves off wood rot and reduces the chance of damage from precipitation as well as melting snow and ice.
Installing a solar-powered gable-mounted ventilator is the easiest way to properly increase attic ventilation. Mounted in front of an existing gable vent, a solar-powered gable fan can be installed without cutting a hole in the roof or running additional electrical wiring. Solar powered fans are typically 30 percent quieter than comparable units and increase energy efficiency by as much as 35 percent.
Step 1: Use 2 by 4 lumber and 3-inch screws to build a frame against the gable opening to support the fan within the parameters of attic joists and flooring. Prevent air from escaping back into the attic by securing the frame to the joist and floor, tight against the gable opening.
Step 2: Cut a piece of plywood to cover the frame opening and use the fan template to cut an appropriately sized hole in the center of the board for the fan housing to fit into.
Step 3: Attach the plywood securely to the gable frame with 2-inch-long wood screws, making sure there are no gaps between the board and the frame.
Step 4: Mount the fan assembly into the plywood opening, orienting the fan correctly and making sure the mounting brackets are plumb.
Step 5: Choose a spot on the roof with unobstructed southern exposure to mount the fan's solar power panel to. The spot must receive southern sunlight for a majority of the day in order for the fan to operate effectively.
Step 6: Follow the manufactures instructions and mount the solar panel into place. If necessary, drill a hole to run the connecting wire from the solar panel to the fan housing. Caulk around the hole and the panel screws once the wire is in position and the panel is mounted securely.
Step 7: Temporarily cover the solar panel with cardboard or a heavy cloth.
Step 8: Attach the connecting cable from the solar panel to the fan motor.
Step 9: Uncover the solar panel to turn the fan on. Confirm the fan is secure and functioning properly.
— Linda Cottin can be reached at checkout@ljworld.com.
Copyright 2017 The Lawrence Journal-World. All rights reserved. This material may not be published, broadcast, rewritten or redistributed. We strive to uphold our values for every story published.