Photo Gallery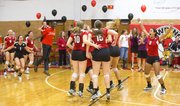 Lawrence High volleyball vs. Free State
Lawrence High junior Cienna Sorell watched from the LHS bench, on the edge of her seat.
In front of her, the student sections from rival high schools Lawrence and Free State screamed back and forth, and the volleyball players from the two schools matched each other point for point.
In the final game of the best-of-five City Showdown match, both sides refused to go down. The fifth game would have gone to the first team to reach 15 had either rival been able to build a lead of more than one point. But LHS and FSHS denied the other's match-point chances three times each before the game was tied at 18.
That's when Lawrence coach Stephanie Magnuson signaled for Sorell to sub in. After Lions sophomore Caroline Dykes' serve caught the top of the net and dropped in for another narrow lead, LHS needed one more point to end the regular season with a victory.
Sorell delivered the match-winner, blocking Free State senior Morgan Knapp's kill attempt to complete a Lions comeback in a 24-26, 15-25, 25-18, 25-23, 20-18 thriller.
"I was so nervous when I was going in," Sorell said, "because I thought we were gonna win it before I had to go in."
It didn't show on the court, as she timed her block perfectly.
"When she was going up," Sorell said, "I just told myself I was going to get it."
Within seconds, Lawrence's whole team morphed into a leaping, yelling hug-circle as it celebrated a Senior Night win in the final home match for Jessica Lemus, Marly Carmona, Caitlin Broadwell, Kristen Gile and Sami Buffalomeat.
"Finally," Broadwell said of her thought during the moment of euphoria. "Finally, we did it."
Lawrence (13-22) built an 8-1 lead in the fifth game before Free State (13-22) stormed back to tie it at 11 — the first of seven ties in the waning minutes of the match.
A Buffalomeat kill gave her team a 14-12 lead and its first match point, but Free State junior Gabbi Dabney answered with back-to-back kills off assists from sophomore Lauren Johnson.
Once Free State scored its third straight point and took a 15-14 advantage, Magnuson called a timeout, and Dykes delivered two clutch kills in a row for the Lions.
Then the Firebirds scored twice after a timeout by Nancy Hopkins, the second point coming on a block by Knapp.
Another Dabney kill put FSHS up, 18-17, before Broadwell buried a spike of her own to tie the game at 18.
Free State senior Grace Miller said the next point, when Dykes' fast-paced serve grazed the net and plopped down between a few Firebirds, stung.
"Once you start going back and forth for that long, there are gonna be some lucky things that happen, like that one serve that hit the net and rolled over," Miller said. "When a team gets one of those leads, it's gonna be hard for the other team to come back like that."
Broadwell said the Lions tried to play at a steady pace and keep their emotions relatively in check after FSHS took the first two games of the match.
"We're really good at comebacks," the senior added. "I think that's one of the things that made the difference. And Carol (Dykes) getting all those kills and stepping up, as a sophomore, was crazy."
Hopkins said Lawrence's rally for three straight wins didn't disappoint her, because the Firebirds battled in a hostile Jungle.
"I think this was a great warm-up for sub-state (on Saturday) the way both teams played tonight," the FSHS coach said.
That, Miller said, didn't make the loss any easier.
"They kept pushing harder," the FSHS senior said of LHS, "and we didn't push hard enough"
Lawrence will play Olathe South (22-12) at Olathe East in its sub-state opener, while Free State will meet Derby (23-16) at Manhattan.
Copyright 2018 The Lawrence Journal-World. All rights reserved. This material may not be published, broadcast, rewritten or redistributed. We strive to uphold our values for every story published.