Photo Gallery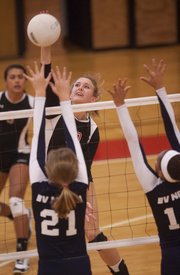 Lawrence High volleyball vs. Blue Valley North
Lawrence High's volleyball team dropped a pair of matches during a triangular Tuesday night at LHS.
Blue Valley North defeated the Lions, 25-18, 21-25, 25-20, and St. James defeated LHS, 25-15, 25-15.
Leading the Lions were Marlee Bird with 23 assists, Kyleigh Severa with 17 assists, Caitlin Broadwell with 15 kills and 21 digs, Caroline Dykes with 12 kills and Jess Lemus with 26 digs.
The Lions (12-22) will host Free State on Thursday.
Copyright 2018 The Lawrence Journal-World. All rights reserved. This material may not be published, broadcast, rewritten or redistributed. We strive to uphold our values for every story published.