Photo Gallery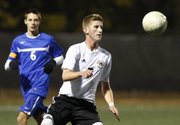 Free State soccer vs. Leavenworth
PJ Budenbender says everywhere he went a few years ago, it seemed like people were trying to convince him to play soccer again.
First it was Free State soccer coach Kelly Barah, who worked with Budenbender during basketball conditioning. Then it was his parents, whom Barah had already talked to.
"It was all over the place," the second-year Free State soccer player said. "I'm glad I did it, though. It was a great idea."
Budenbender's decision — and Barah's persistence — resulted in a memorable moment during Free State's Senior Night Tuesday.
In the 72nd minute, the senior midfielder received a pass from Alex Trent then ricocheted a shot into the right side of the net, capping off the Firebirds' 3-0 victory over Leavenworth.
Teammates didn't say much to Budenbender after his first goal of the season.
"It was just hugs. That's all it was," Budenbender said. "They've been supportive all year, and they helped me get that goal."
It was an emotional night for Barah, who celebrated his team's final home game with his first four-year class as coach.
All nine of the seniors started, including Budenbender, Trent, Chris Allen, Josh Hodge, AJ Ware, Nick Pippert, Conner Aldridge, Fedor Sharov and Levi Sedlock.
"It's just amazing to see them finish on a win," Barah said. "But there's so much more about these individuals than soccer. To see nine men going out to the real world and ready to go out to the real world, that's what I'm more excited about."
Following Barah's final postgame talk, the coach — and many of his players —walked to midfield for their final break with tears in their eyes.
"It's pretty emotional, and it's all thanks to Barah," Allen said, "because he just builds such a community, such a family that when that final buzzer blows, you just don't want to leave."
After struggling to score most of the season, the Firebirds (6-9-1) broke out offensively against the Pioneers, registering 31 shots and 13 shots on goal.
"We needed it," Budenbender said. "We're coming up on a big end of the season here, and hopefully we can make a run now that we've got some momentum."
Jordan Patrick put in Free State's first goal in the 40th minute, taking a pass from Allen and launching a shot from the left side.
Allen added the second goal in the 45th minute, taking a cross from Ware and knocking it into the left corner of the goal with his right foot.
"Coach has always been telling me do the opposite of what the ball does. When the ball's going in, drop back and get that space," Allen said. "That's what I did, and AJ just played me the best pass I could ask for."
Leavenworth (2-13-1) managed little possession time while mustering just three shots on goal.
Barah subbed out his seniors with five minutes left to get them one last ovation from the crowd.
"It was nine individuals who bought into the system," Barah said, "that it could be a family style — and it should be a family."
Free State will now wait for its pairing for next week's regionals.
Copyright 2018 The Lawrence Journal-World. All rights reserved. This material may not be published, broadcast, rewritten or redistributed. We strive to uphold our values for every story published.