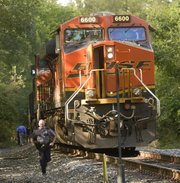 A man pinned underneath a train in the area of Burcham Park this afternoon died before medical personnel could transport him to Lawrence Municipal Airport to be airlifted to a trauma center.
The man, whose identity has not yet been released, did not respond to life-saving efforts as an ambulance transported him from the 400 block of Ohio Street before 3 p.m., said Division Chief Eve Tolefree, a Lawrence-Douglas County Fire Medical spokeswoman.
After Lawrence police and medical personnel responded to a report of a train-pedestrian collision around 2:35 p.m., Lawrence police determined that an adult male was struck by an eastbound train on the Burlington Northern Santa Fe track near Burcham Park.
The area in which the man was struck was not an area where pedestrians or vehicles cross.
Lawrence police continue to work with BNSF officials to investigate the incident and anticipate releasing additional information on Wednesday, according to Sgt. Trent McKinley, a Lawrence Police Department spokesman.
The entrance to Burcham Park was temporarily blocked by the train, but McKinley said officials planned to move the train later this afternoon.
Copyright 2018 The Lawrence Journal-World. All rights reserved. This material may not be published, broadcast, rewritten or redistributed. We strive to uphold our values for every story published.