Photo Gallery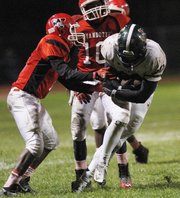 Free State football at KC Wyandotte
Kansas City, Kan. — A little bit of mud was about all that could slow down the Free State High football team on Friday night.
After falling behind early, the No. 2-ranked Firebirds scored 55 straight points, rolling to a 55-14, district-opening victory over Wyandotte on Friday night at Wyandotte High.
The victory was the 100th for the program and also coach Bob Lisher, with the players congratulating the 17th-year coach in the postgame huddle following the game.
"It means I'm getting old. I've been here a long time," Lisher said with a laugh. "No, it's always exciting for the program itself, for the kids. There's been a lot of kids involved in those 100 victories. It's pretty special to finally get to those triple digits."
It didn't look like it'd be easy early.
Wyandotte — with Minnesota football commit Dimonic McKinzy at quarterback — scored on a 59-yard scoring drive to open the game, as FSHS adjusted to a soppy and muddy field at Wyandotte.
"We were playing tentative," Lisher said. "We were afraid we were going to slip and miss when, in actuality, you've just got to go out and compete."
It didn't take long for the Firebirds to take control.
Behind a strong performance from the offensive line, FSHS quarterback Joe Dineen contributed a pair of touchdown runs before Stan Skwarlo added a four-yard rushing TD of his own.
"We got a good push and finally jelled, and our playmakers made plays," FSHS left tackle Scott Frantz said. "We had some good holes."
Meanwhile, Free State's defensive line started shutting down McKinzy by getting pressure while also keeping him in the pocket.
The crushing blow for the Bulldogs (3-4) came in the final minute of the first half, when Free State's Carson Bowen returned an interception 44 yards down the right sideline for a touchdown that helped make it 34-6.
"The No. 2 receiver came out and ran an out-route; I just saw that and bit up on that, and the quarterback threw it," Bowen said. "I just ran it in."
It was the second interception of the half for Bowen, who also later added a touchdown run.
"He's a good athlete," Lisher said. "He missed a little bit earlier from being sick. He's getting back to full speed now, and he's starting to make some plays."
After Free State's Kalim Dowedell ran in a 20-yard touchdown with 1:23 left in the third quarter, the Firebirds took a 55-6 lead, which prompted a running clock for the rest of the game.
Khadre Lane and Keith Loneker added the other receiving touchdowns for LHS.
McKinzy — he'd led the Bulldogs to a 43-point-per-game scoring average coming in — finished 15-for-36 passing for just 135 yards with two touchdowns and two interceptions.
"Our linemen did great, getting back there and making him scramble and getting him out of his timing," Bowen said. "Our D-backs just made plays."
Skwarlo finished with 13 carries for 106 yards, while Dineen added 148 passing yards.
FSHS (6-1) will host Leavenworth at 7 p.m. Friday.
"Obviously, you want to build on this," Lisher said, "and take it into next week."
---
Free State | Wyandotte
First downs 16 | 15
Rushes-yards 31-234 | 26-93
Passing yards 148 | 135
Total offense 382 | 228
Return yards 67 | 106
Fumbles-lost 1-0 | 0-0
Penalties-yards 4-35 | 6-60
Score by quarters
Free State 6 28 21 0 — 55
Wyandotte 6 0 0 8 — 14
Individual statistics
Rushing
Free State: Stan Skwarlo 13-106 TD, Joe Dineen 10-71 2 TD, Carson Bowen 4-25 TD, Kalim Dowedell 1-20 TD, Bryce Torneden 1-6, Sam Skwarlo 2-6.
Wyandotte: Dimonic Roden-McKinzy 7-36, Jerayle Christopher 9-28, Antonio Moore 4-20, Steven Ford 4-16, Team 2-minus-7.
Passing
Free State: Dineen 8-16-148, 2 TD.
Wyandotte: Roden-McKinzy 15-36-135 2 TD, 2 INT.
Receiving
Free State: Blake Winslow 3-61, Khadre Lane 2-51 TD, Joel Spain 1-25, Lucas Werner 1-6, Keith Loneker 1-5 TD.
Wyandotte: Ford 9-81 TD, Moore 3-36 TD, Jeffrice Wilson 1-13, Mosab Dafalla 1-3, Christopher 1-2.
HOW THEY SCORED
First quarter
9:28 — Steven Ford 6 pass from Dimonic Roden-McKinzy. Roden-McKinzy pass failed. (Wyan. 6, Free State 0.)
8:33 — Joe Dineen 16 run. Alex Trent kick failed. (Free State 6, Wyan. 6.)
Second Quarter
11:53 — Dineen 26 run. Trent kick. (Free State 13, Wyan. 6.)
7:45 — Stan Skwarlo 4 run. Trent kick. (Free State 20, Wyan. 6.)
3:01 — Khadre Lane 45 pass from Dineen. Trent kick. (Free State 27, Wyan. 6.)
00:40 — Carson Bowen 44 interception return. Trent kick. (Free State 34, Wyan. 6.)
Third Quarter
8:48 — Keith Loneker 5 pass from Dineen. Trent kick. (Free State 41, Wyan. 6.)
3:44 — Bowen 6 run. Trent kick. (Free State 48, Wyan. 6.)
1:23 — Kalim Dowedell 20 run. Trent kick. (Free State 55, Wyan. 6.)
Fourth Quarter
4:37 — Antonio Moore 22 pass from Roden-McKinzy. Moore run. (Free State 55, Wyan. 14.)
Copyright 2018 The Lawrence Journal-World. All rights reserved. This material may not be published, broadcast, rewritten or redistributed. We strive to uphold our values for every story published.