Photo Gallery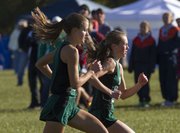 Sunflower League cross country
When Free State High's girls cross country team runs, the Firebirds trust senior Bailey Sullivan, sophomore Claire Sanner and freshman Emily Venters to stay near the front of the pack. The only uncertainty is predicting in which order the three will cross the finish line.
As usual, the FSHS trio set the pace for the rest of the field Saturday morning at Rim Rock Farm and remained close most of the way. Then, with about 1,000 meters to go in the Sunflower League championship race, Sullivan saw Venters kick it to a gear which no one else could match.
"All of a sudden, she just took off," Sullivan said. "She was gone."
The Free State freshman won the 4K league championship in 15:19.
"I think I just had adrenaline in me," Venters said of her final push. "I just wanted to pass the one girl who was in front of me. I just felt it and pushed up the hill and went from there."
Sanner came in second at 15:23.1, and Sullivan finished fourth with a 15:30, but the Firebirds finished three points behind Olathe East (which had four runners in the top 10) for the league's team title. The FSHS boys also finished second, to Olathe North.
Last year, before Sanner transferred to Free State from Lawrence High, she finished 10th in the league. Venters' first-place finish as a freshman impressed both Sanner and Sullivan.
"The three of us," Sanner said, "really work together well, because we know we're capable of doing that (all finishing near the top). We just try to stay together as long as possible and know that if one of us is up there it just pushes all of us."
According to Venters, she thought Sanner would win the league title.
"I wasn't expecting it," the freshman said. "I was just hoping to finish somewhere up in the top three."
In the midst of competition, Sullivan didn't mind seeing some of Free State's dark green uniforms in front of her.
"It definitely helps to know that I'm trying to keep up with my teammates," the senior said.
Free State's boys put four runners in the top 16 in the league's 5K. Junior Ryan Liston finished fifth, in 16:39.9, and sophomore Ethan Donley (10th), junior Thomas Becker (12th) and sophomore Tanner Hockenbury (16th) crossed the finish line within 33 seconds of the team leader.
Liston called the team effort an "awesome" display and said every FSHS runner has improved throughout the season, which has helped the team keep within reach of its competition every week.
"I think it's really encouraging," Liston said. "And I want to keep improving so that they can keep working towards me and keep improving."
LHS boys 9th; girls 12th
LHS sophomore Nathan Pederson felt miserable after finishing 25th in the league 5K. Rim Rock Farm, he added, took a toll on the Lions, who placed ninth in the team standings.
"The hills are pretty rough, and after you clear the hills, you have to keep your pace up going across the flats," Pederson shared, before pointing to the difficulty of competing against the rest of the Sunflower League. "You feel like you've got to try harder, and you've got to do better. You've got more adrenaline, and you've got more pressure on you."
Lions senior Laura Neilsen led her team, which placed 12th, with a 34th-place run in the 4K.
"It can be challenging," she said of the course, "but it's also good when there's more runners because you have more people to pace yourself with. … The entire second mile is the hardest part, because of steep downhills and steep uphills."
LHS and FSHS will compete at Class 6A regionals Saturday. The Lions will travel to Lone Elm Park in Olathe, and the Firebirds will go to Milford State Park in Junction City.
Copyright 2018 The Lawrence Journal-World. All rights reserved. This material may not be published, broadcast, rewritten or redistributed. We strive to uphold our values for every story published.