Before long, Julie Wolf was back at her grandparents' home, her grandmother cradling a freshly baked cake in the driveway to greet her.
Wolf owed the memory to a tradition whose origins trace back to Mexico as she was one of a dozen participants in an El Dia de los Muertos altar-building workshop co-hosted by The Lawrence Percolator and Lawrence Public Library on Saturday.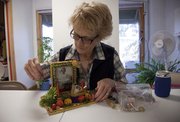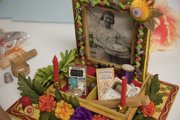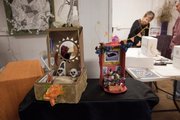 "I found it to be a lot more meaningful experience," Wolf said. "One that brings back good memories."
Saturday's first of two workshops at The Lawrence Percolator, a community artspace behind the Lawrence Arts Center, served as a lead-in to an annual processional next month that will coincide with the Nov. 1-2 Mexican holiday that honors and remembers departed loved ones, often through elaborate altars.
The altars needn't always bear the likeness of a late human companion. Others, like one made by the workshop's instructor, Liza MacKinnon, created altars honoring pets that have since passed on. Percolator board member K.T. Walsh remembered one altar mourning evolution in light of the state's debate over teaching it in schools. Most of the alters made, however, stuck with the Mexican tradition of honoring departed loved ones with their photos and trinkets that represented talents and hobbies.
"There's been a huge shift in attitude toward death because of a real spiritual broadening in our culture," Walsh said of the holiday's growing popularity in North America. "Everyone has a view of death. The American one has been based on fear, which is not healthy."
Most of Wolf's altar came together at a Wednesday night workshop at the Lawrence Public Library. Reduced in scale compared with some of the massive altars associated with El Dia de los Muertos, Wolf's altar honored her grandmother, Edna Worden, who passed away in the 1970s.
"It was a spur of the moment," she said. "I wasn't sure I wanted to be this personal."
After about six hours of work, Wolf's creation neared completion: an ornate handheld altar adorned by flowers, candles and miniature sewing and cooking equipment — the latter two in remembrance of two of her grandmother's most memorable talents. Photos of her grandmother appeared on each side of the altar, one of which saw her presenting her latest baked creation.
"Once I got her in here she just kind of decorated herself," Wolf said as she gripped the altar.
Altars could be as little as an miniature Altoid tin or as big as an entire room, MacKinnon said.
"Anything goes," she said, later adding, "I want people to feel successful afterward, and for them to create something that matters and they like."
MacKinnon displayed an altar of her own, in memory of her Boston terrier, Bonnie. A photo of Bonnie was displayed in the back of the little altar with a Milkbone resting at its entrance. Last year, when Perry began an altar to memorialize a friend of hers who had died, also named Bonnie, the process grew into an opportunity to get to know her friend's family.
"It's a mix of emotions," she said. "It's bittersweet, but a lot of people are excited and happy to share their stories."
Copyright 2018 The Lawrence Journal-World. All rights reserved. This material may not be published, broadcast, rewritten or redistributed. We strive to uphold our values for every story published.