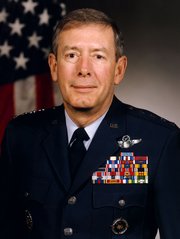 At the presentation of Kansas University's College of Liberal Arts and Sciences Distinguished Alumni Award on Friday evening, recipient Charles Boyd explained how his time at KU set him on the path to becoming a four-star general.
Boyd attended the university after returning home from Vietnam, where he spent nearly seven years as a prisoner of war.
"At the time I was released, I had spent one-fifth of my life as a prisoner of war," Boyd said. "I came back to a society I didn't recognize, and I had to figure out what I wanted to do for the rest of my life. I knew two things: I was not going through my life as a POW and nothing more, and I loved this country and wanted to serve it in some way."
During his imprisonment, a fellow POW taught Boyd Spanish vocabulary using tap code. He knew 2,700 words by the end, and would recite them alphabetically every day.
Boyd knew these words, a few verbs and some conjugations, but didn't know how to speak the language. So, when the Air Force offered him the opportunity to get an education, he decided to learn more.
In 1975 and 1976, Boyd received his bachelor's degree and master's degree in Latin American Studies from KU.
"My time at KU was an important step," Boyd said. "After spending seven years in a vacuum of information, I had a thirst for knowledge, and I wanted to learn some things. I got the chance to do that here."
Dozens of people, including Danny Anderson, dean of the College of Liberal Arts and Sciences, members of the board who chose Boyd as the recipient, and ROTC students gathered at the Dole Institute of Politics to hear from Boyd and celebrate the award.

Landon Rowland, a friend and colleague of Boyd's, conducted an hourlong interview with Boyd. They discussed Boyd's early love of flying, his imprisonment and the climb to his final military assignment as deputy commander in chief of U.S. forces in Europe.
Boyd retired from the military in 1995 after 35 years of service. He continued to take on projects, including serving as the director of a federal commission regarding national security in 2001.
Now, Boyd continues to practice his first love: flying. He logged 3,000 flight hours as a command pilot in the Air Force and owns (and regularly flies) one of the jets he flew during active service.
"My dad let me go for a ride in a plane at 7 years old. I was in the air for 15 minutes, and that was it," Boyd said. "It's in my bones. It's in my soul. I'll die that way."
Copyright 2018 The Lawrence Journal-World. All rights reserved. This material may not be published, broadcast, rewritten or redistributed. We strive to uphold our values for every story published.