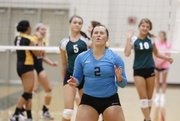 Free State High's volleyball players aren't in denial. They know certain issues have kept them from winning more games, and they will tell those who inquire that the problems are fixable.
Resolving those matters on the fly against quality competition Tuesday night at FSHS, though feasible, proved too difficult against St. Teresa's Academy and Shawnee Heights, the visitors who swept the Firebirds on their home court.
STA, from Kansas City, Mo., finished off Free State quickly, 25-13, 25-15, before the Firebirds ended the night playing at a much higher level in a 26-24, 25-23 loss to SHHS, ranked No. 5 in Class 5A.
"We started off really slow at the beginning," FSHS senior Morgan Knapp said, "and then we finally find our mojo and get organized and then it just comes back down. We don't know how to finish. That's the big thing for us."
There are other troubles, of course, and Free State (9-16) continues to deal with them while maintaining a positive outlook. Consistency and work ethic, senior Grace Miller added, have been circled as other problems. When the Firebirds made Shawnee Heights earn the final two games of the evening, Miller said they displayed some other attributes that have been absent in other losses this fall.
"With communication," she said, "you have energy, and with energy you go after more stuff."
Although they got swept at a home triangular for the second time this season, a more active approach kept the Firebirds close to the Thunderbirds. Junior Paige Corcoran, Miller and freshman Emma Barberena went low for digs, while senior Emilee Kern's passes set up kills for Morgan Knapp, Barberena, Miller, sophomore Allie Knapp and freshman Naomi Hickman.
Another obstacle for Free State, coach Nancy Hopkins said, is the team's youth, as most of the roster has been forced to adjust to not just the varsity level, but playing against talented programs.
"We haven't lost to teams that aren't good," Hopkins said.
But many of the younger players, she added, have yet to reach a point where they aren't satisfied with only playing well. She wants to see them develop a killer instinct.
"That's something you can't coach," Hopkins said. "They either have that habit or they don't."
After FSHS failed to show much fight in the first match, Miller said they had flashes of the fire with which they need to play against SHHS.
"A lot of time we were giving up on balls," the senior said. "We didn't know if we could get to it and when we tried we surprised ourselves."
As the Firebirds continue to adjust, Morgan Knapp said they might as well do so against stiff competition.
"I think it makes us better," she said. "It gives us experience and shows us what other teams are out there, and we strive to be those teams."
Once Hopkins can get the whole team to read the plays their opponents are running, she'll start to feel better.
"It'll come," the coach said. "But sometimes it's frustrating that it's not coming fast enough."
Free State plays at Bishop Miege on Thursday.
Copyright 2018 The Lawrence Journal-World. All rights reserved. This material may not be published, broadcast, rewritten or redistributed. We strive to uphold our values for every story published.