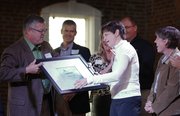 Members and supporters of LiveWell Lawrence celebrated its five-year anniversary Tuesday in an event that featured special recognition for a founding member and appearances from city, county and state officials.
Co-founder Marilyn Hull received a framed certificate bearing dozens of signatures from LiveWell supporters thanking her for her contribution in founding the coalition, which encourages Douglas County residents to eat healthy food, exercise and live tobacco-free lives.
In front an audience of over 70 people at Abe and Jake's Landing, Hull said that being diagnosed with breast cancer in 2006 made health advocacy an especially personal mission of hers.
"This has been the assignment of a lifetime," she said.
The coalition formed in 2008 after the Douglas County Community Foundation received a grant from the Kansas Health Foundation to battle chronic diseases. With the grant in hand, Hull, an employee at the Douglas foundation, was assigned to form a group for that purpose.
The Lawrence-Douglas County Health Department now coordinates LiveWell, which has more than 100 community partners.
Other speakers included Mayor Michael Dever, Douglas County Commissioner Mike Gaughan, and Secretary of the Kansas Department of Health and Environment Robert Moser, all of whom congratulated LiveWell and expressed excitement for its future.
"Part of this is about the last five years, but it's also very much about the next five," Gaughan said.
In an interview before the event, Moser said he was happy to attend and offer encouragement.
Cindy Johnson, another co-founder, also updated visitors on current initiatives from the coalition including healthy food accessibility, biking and physical activity.
In an interview, Hull said she is most proud of the fact that LiveWell has brought together individuals from various backgrounds working together, such as government officials, business people and health advocates.
"It feels really great," Hull said of making it to five years. "When it started it was a small thing, we didn't know if we could keep it together."
Copyright 2018 The Lawrence Journal-World. All rights reserved. This material may not be published, broadcast, rewritten or redistributed. We strive to uphold our values for every story published.