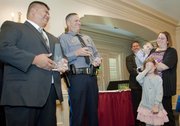 When Lawrence police Officer Sutagee Anglin found himself among first responders to a quickly escalating house fire, he didn't stop to think, "Wait — I'm not a firefighter."
"You go back there and hear someone screaming and saying there's someone else inside, it's a reaction," he said. "You just do it."
Anglin, Officer Robert Egidy and Sgt. Ted Bordman entered the burning home and rescued an unconscious man who had been overcome by smoke.
The men were three of nearly 40 first responders honored Tuesday during the third Valor Public Safety Awards luncheon, organized by the Lawrence Chamber of Commerce Leadership Lawrence program.
Anglin, Egidy and Bordman received the Silver Valor Award for their actions on Dec. 12, 2012.
When Anglin arrived at the scene a bystander yelled that there was someone trapped inside, possibly at the back of the house, he said. Looking through a dog door Anglin saw the man, collapsed on a landing in the back staircase.
Afraid kicking in the door would push the victim farther down the stairs, Anglin broke the glass in hopes of leaning in and pulling the man through. With smoke billowing out the door, he said he realized Egidy and Bordman had made their way through the house from another entrance. They were able to hold the man while Anglin broke in the door.
Once police pulled the victim outside, paramedics took over. He survived.
Egidy is deployed to Afghanistan with the U.S. Army Reserve, so his wife and children accepted his award on Tuesday.
Additional honors — for valor and lifesaving — went to other members of the Lawrence Police Department, Lawrence-Douglas County Fire Medical and first responders from Eudora and Baldwin City.
For the first time this year, several civilians also were honored. When a woman went into cardiac arrest at Eudora High School in April, they were the first to administer CPR until paramedics and law enforcement arrived. They recovered her pulse, though the woman ultimately died.
"We felt, in the truest sense of the word, they were first responders," Leadership Lawrence director Sue Hack said of the civilians.
Keynote speaker Michael Kirkpatrick, a retired FBI agent who formerly worked in the Kansas City Field Division, said the best public servants are found running toward mayhem when others are running away.
"I know that the recipients believe they were only doing their job," he said. "But that's a trait of all good public servants."
Award winners
Following is a list of the 2012-13 Valor Public Safety Awards, with dates incidents being commended occurred.
Valor Awards
• Meritorious, Jan. 19, 2013: Sgt. Craig Shanks.
• Bronze, April 7, 2013: Officer Peter Kerby.
• Silver, July 20, 2010: Capt. Stephen Zarnowiec.
• Silver, Oct. 26, 2012: Officer Michael Ramsey.
• Silver, Dec. 12, 2012: Officers Sutagee Anglin and Robert Egidy and Sgt. Ted Bordman.
Life Saving Honor Awards
• Oct. 1, 2012: Officers Tracy Russell and Micah Stegall.
• April 26, 2013: Engineer Nicholas Simon, Engineer Paramedic Tiffany Saturday, Engineer Tyler Tuckness, Engineer Paramedic David Russell, Chief Ken Keiter (Eudora), Firefighter Peter Friedel (Eudora), Firefighter Garrett Ladd (Eudora), Firefighter John Woolfolk (Eudora), Firefighter Kevin Blake (Eudora), Officer Daniel Flick (Eudora), civilian Amanda Trober, civilian Teresa Carnagie, civilian Martha Mersmann and dispatcher Jeremy Kohler.
• May 28, 2013: Lt. Scott Seratte, Engineer David Russell, Capt. Scott Dieker, Engineer James Strohm, Engineer Greg Wurdeman, Firefighter Brendon Crain, dispatcher Anthony Foster and Officer George Baker.
• June 26, 2013: Officer Matthew Leslie.
• July 16, 2013: Lt. Andrew Flory, Engineer Paramedic Jason Williams, dispatcher Anthony Foster, call taker Edna Brubaker, Officer Mike Velasquez (Baldwin), Officer Bruce Elliott (Baldwin) and civilian Timothy Jones.
• Aug. 20, 2013: Officers Larry Hamilton and Tracy Russell.
Copyright 2018 The Lawrence Journal-World. All rights reserved. This material may not be published, broadcast, rewritten or redistributed. We strive to uphold our values for every story published.