Contact KU and higher ed reporter Sara Shepherd
Have a tip or story idea?
---
More stories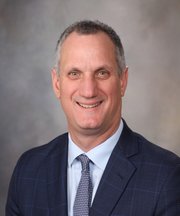 A finalist for the position of dean of the Kansas University School of Medicine will visit the medical school's campuses this week and present to students, faculty and staff.
Robert D. Simari, a professor of medicine at the Mayo Clinic College of Medicine in Rochester, Minn., is the first candidate announced by the search committee.
Starting Tuesday, Simari will visit the Kansas City, Wichita and Salina medical school campuses along with the Lawrence KU campus. He is scheduled to present a talk at 4 p.m. Wednesday at the Kansas City campus.
The university formed a search committee in February to replace former medical school dean Barbara Atkinson, who retired in summer 2012. Richard Barohn, a distinguished professor and chair of the neurology department at the KU medical center, leads the committee.
The committee has invited a second candidate to campus but will not announce that candidate's name until he or she visits, spokesmen have said.
Copyright 2018 The Lawrence Journal-World. All rights reserved. This material may not be published, broadcast, rewritten or redistributed. We strive to uphold our values for every story published.