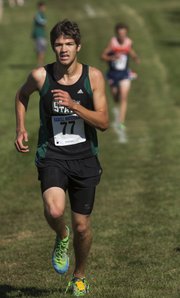 Five races into the season, Free State High's girls cross country team had either won or finished second every time it took the course.
Competing Saturday at a smaller meet, the Haskell Indian Nations University Invite, the Firebirds did it a sixth time — taking the team title by occupying four of the race's top six spots on the same morning FSHS junior Ryan Liston won the boys 5K.
Sophomore Claire Sanner, who edged teammate Emily Venters by 0.22 seconds for second place, finishing the 4K in 14:50.64, said the girls always find a way to stay motivated.
"Each meet is different," Sanner said, "and there's always something you're looking toward, whether it's a faster time for that course or a PR overall or just beating other teams. You can find motivation no matter what."
In this particular case, senior Bailey Sullivan added, a friendly bet with rival Olathe East did the trick. For the past few years at the Haskell race, O-East and Free State have tallied all the team points for their boys and girls varsity, junior varsity and C-team races, and the winner takes home a bucket full of candy. This time, although O-East placed second in the girls race, with an individual title for sophomore Kayla Davis (14:48.05), FSHS couldn't topple its rival for the barrel of sweets.
"We were definitely gunning for it," Sullivan said, laughing.
Actually, the girls were more invested in making each other better. Sullivan (15:14.38) took fourth place, and freshman Kiran Cordes (15:44.31) was only two spots behind her, in sixth.
"We race each other," Sullivan said. "Not in like a hostile way, but in an improving-off-of-each-other way."
Liston, in search of his first varsity cross country title, refused to be sidetracked en route to a 16:32.49 finish. Roughly 400 meters into the champions' run, he realized his left shoelace had come undone. For a moment, his mind began racing as fast as his legs were moving.
"What happens if my shoe falls off?" Liston said of his initial reaction. "I wasn't gonna slow down, either."
It turned out he didn't need to. His left foot felt stable enough because the lace stayed relatively intact, thanks to the race chip through which he had strung each end of the string.
Once Liston moved past that mental obstacle, he methodically worked his way toward the front of the pack, overtaking Olathe East's Nicholas Skinner (second place) 200 meters from the finish line. From there, Liston sprinted away, winning the race by almost seven seconds.
"I didn't want to burn out and have him pass me back," Liston said. "I was thinking I had to race like he was right behind me, like he was about to catch me … I knew I didn't have that much longer to race. So what's another little burst?"
His effort throughout the course gave him a personal record by nearly 16 seconds and allowed him to capture a first-place finish he had chased for the past year, since finishing second to former teammate Trail Spears last fall at Haskell.
"That was awesome," Liston said, "but this year I wanted to be the one to step up and get first place."
The FSHS boys finished second, behind team champion Shawnee Mission East. Junior Thomas Becker placed fifth for the Firebirds, and sophomore Tanner Hockenbury was eighth.
---
Haskell Indian Nations University Invite
Saturday at Haskell
Girls Varsity 4K
Team scores: 1. Free State, 27; 2. Olathe East, 34; 3. Shawnee Mission East, 59.
FSHS results: 2. Claire Sanner, 14:50.64; 3. Emily Venters, 14:50.86; 4. Bailey Sullivan, 15:14.38; 6. Kiran Cordes, 15:44.31; 12. Molly McCord, 16:08.3; 19. Rosemary Newsome, 16:22.31; 22. Allyson Hertig, 16:54.2.
Boys Varsity 5K
Team scores: 1. Shawnee Mission East, 37; 2. Free State, 41; 3. Olathe East, 42; 4. Shawnee Mission Northwest, 105.
FSHS results: 1. Ryan Liston, 16:32.49; 5. Thomas Becker, 17:04.73; 8. Tanner Hockenbury, 17:06.66; 13. Connor Ballenger, 17:17.97; 14. Curtis Zicker, 17:19.18; 16. Cole Stallard, 17:27.83.
Girls JV 4K
Team scores: SM Northwest 36, Olathe East 46, Free State 63, SM East 85.
FSHS results: 2. Liv Lyche, 16:39.54. 3. Sarah Whipple, 16:40.3. 17. Cierra Campbell, 17:45.57. 20. Lindsey Wethingon, 17:55.3. 21. Marlee YostWolff, 17:58.04. 24. Sydney Zimmerman, 18:06.79. 25. Grace Bradshaw, 18:12.87.
Boys JV 5K
Team scores: Olathe East 32, Free State 37, SM Northwest 54, SM East 109.
FSHS results: 2. Elijah Harvey, 18:13.62. 7. Joshua Milota, 18:31.21. 8. Carl Palmquist, 18:34.22. 9. Briggs Fish, 18:38.96. 11. Calvin YostWolff, 18:44.46. 19. Owen Heffernan, 19:09.56.
Girls C Team 4K
Team scores: Olathe East 35, SM Northwest 42, Free State 57, SM East 103.
FSHS results: 2. Christina Craig, 17:38.07. 8. Kaitlyn Johnson, 18:19.41. 9. Hannah Reussner, 18:22.04. 18. Eyerusalem Zicker, 18:58.74. 23. Calli Bowen, 19:21.91. 24. Hayley Boden, 19:28.47. 28. Alyssa Hicks, 19:44.31. 32. Isabelle Haake, 20:08.92. 34. Fiona McAllister, 20:27.44. 35. Anna Westbrook, 20:29.33. 51. Sarah Lieberman, 21:20.46. 66. Lisa Volkin, 22:24.13. 69. Brianna Collicott, 22;33.4. 75. Madeline Hill, 23:00.77. 78. Lila Alvarado, 24:13.07. 79. Michaela Reed, 24:35.71.
Boys C Team 5K
Team scores: Free State 37, Olathe East 43, SM Northwest 46, SM East 107.
FSHS results: 1. Lamont Sampson, 18:43.92. 7. Siyin Li, 19:36.73. 8. Avery Allen, 19:38.48. 10. Christopher Anderson, 19:43.22. 11. Zachary Moore, 19:44.61. 24. Jake Keary, 20:30.86. 29. Joshua Kallenbach, 20:45.69. 30. Caleb Holland, 20:46.59. 32. Joshua Burrichter, 20:48.76. 36. Eli Jost, 20:58.13. 37. Jacob Rogers, 20:59.48. 39. Ty Hartman, 21:06.96. 48. Ryan Givens, 21:40.78. 55. Luke Oberrieder, 21:47.24. 56. Kieran Inbody, 21:48.25. 58. Max Ahlvers, 22:15.56. 70. Tanner McCune, 22:56.08. 72. Tom Riggs, 22:58.54. 78. Timothy Byers, 22:23.57. 82. Ben Ozonoff, 23:38.73. 84. Alexander Loeb, 23:40.61. 91. Leevon Robinson, 25:34.69. 97. Andy Riggs, 35:09.5.
Copyright 2018 The Lawrence Journal-World. All rights reserved. This material may not be published, broadcast, rewritten or redistributed. We strive to uphold our values for every story published.