Photo Gallery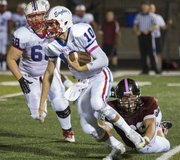 Lawrence High football vs. Olathe North
Summary
ON LHS
First downs 13 12
Rushes-yards 35-251 42-167
Passing yards 102 14
Total offense 353 181
Return yards 134 122
Fumbles-lost 1-1 2-1
Penalties-yards 5-36 1-5
Score by quarters
ON 7 14 7 0 — 28
LHS 0 0 0 0 — 0
Individual statistics
Rushing
ON: Venus Triplett 19-180 3TDS, Cole Murphy 13-62, Marcel Spears 1-9, Jimmie Swaim 1-5, Team 1-minus-5.
LHS: Nyle Anderson 7-54, Dearion Cooper 10-41, Drew Green 17-39, Alan Clothier 4-30, Kieran Severa 3-6, Team 1-minus-3.
Passing
ON: Murphy 3-5-102.
LHS: Anderson 3-13-14 2 INT.
Receiving
ON: Chaz Burgess 2-94, Mauricio Chio 1-8.
LHS: Zay Boldridge 2-7, Tucker Sutter 1-7.
HOW THEY SCORED
First quarter
1:53 —Venus Triplett 64 run. Ivan Aguero kick. (ON 7, LHS 0.)
Second quarter
11:10 —Isaiah Simmons 95 interception return. Aguero kick. (ON 14, LHS 0.)
2:51 — Triplett 31 run. Aguero kick. (ON 21, LHS 0.)
Third quarter
1:28 — Triplett 1 run. Aguero kick. (ON 28, LHS 0.)
-->
-->
Lawrence High football coach Dirk Wedd knows this year's team — more than many others he has had —isn't the type that can afford to have turnovers.
Two giveaways in the first half buried the Lions on Friday, when they fell behind early and never could catch up in a 28-0 loss to Olathe North at LHS.
"We haven't been a team that has turned the ball over, and we can't turn the ball over," Wedd said. "Hopefully, we learned some valuable lessons."
The game's biggest momentum-changer came early in the second quarter.
With LHS trailing 7-0 and driving inside the North 25, quarterback Nyle Anderson overthrew his intended receiver and instead hit ONHS defensive back Isaiah Simmons.
The younger brother of Kansas University starting nickelback Victor Simmons showed his athleticism, returning the interception 95 yards down the right sideline to make it 14-0.
Anderson, who missed the previous week's game against Shawnee Mission Northwest because of an illness, also had a fumble two possessions later that set up North's third TD late in the second quarter.
"We knew he was going to be a little rusty," Wedd said of Anderson. "It's still going to come down to him making plays, and he will."
LHS also had issues stopping Venus Triplett, who rushed for 221 yards against Free State a week ago.
The 5-foot-8 junior outran the LHS defense for a pair of long touchdown runs (64 and 31) and finished with 19 carries for 180 yards and three scores.
Wedd described the speedy Triplett as the "worst nightmare" for a defense like the Lions'.
"It's so hard for us to tackle in space, and he gets you in space. We can't rally around him all the time," Wedd said. "He's an outstanding back. They're just an outstanding team."
LHS never could get its backs going, either. The Lions, who had thrived in previous weeks by overpowering teams, rushed 42 times for 167 yards (4.0 yards per carry).
"Their defensive line had us game-planned pretty well, and they stopped the run well," LHS receiver Kieran Severa said. "We need to come up with an answer to that. If we can't run the ball, we need to figure out how to throw the ball. That's definitely something we're going to look at."
Anderson, who overthrew a few of his intended receivers, finished 3-for-13 passing for 14 yards with a pair of interceptions to Simmons.
It actually could have been worse for LHS, as a third-quarter injury to workhorse running back Drew Green doesn't appear to be serious. The 5-foot-11 senior watched the final quarter on the bench with tape sitting atop his left foot and ankle.
Severa said he talked to Green after the game, and Green told him he would be available to play next week. Severa said Green was walking — gingerly — around the locker room.
"He's hobbling right now," Wedd said. "We've just got to hope that we're OK."
Anderson led Lawrence's rushing attack, carrying it seven times for 54 yards. Before his injury, Green rushed 17 times for 39 yards.
Former LHS football coach Dick Purdy was honored at halftime. He was one of five members selected for the KSHSAA Hall of Fame class of 2013. Purdy led LHS football to five state titles in the early 1990s.
"He was with us all week. The kids know a lot about him, and they know what he did for Lawrence High in the nine years he was here," Wedd said. "It was great for him to be back."
Both teams wore yellow No. 29 decals on the back of their helmets to honor Shawnee Mission West receiver Andre Maloney, who died Oct. 4 after suffering a stroke in his team's game Oct. 3 against Leavenworth.
LHS (2-4) will open district play Friday at Leavenworth.
Copyright 2018 The Lawrence Journal-World. All rights reserved. This material may not be published, broadcast, rewritten or redistributed. We strive to uphold our values for every story published.