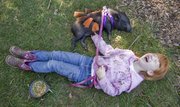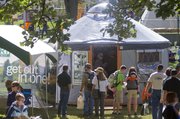 Bryan Welch believes we are living in "the human moment."
No other species has been tasked with managing its own impact on its habitat, said Welch, publisher and editorial director of Mother Earth News magazine. He called this the "defining human achievement" as he prepared to lecture on the subject Saturday during the magazine's sustainable living fair in Watson Park.
"I think that's the most exciting thing about being alive right now," said Welch, who moved to Lawrence in 1996 after founding the Topeka-based Ogden Publications.
Welch's lecture was one of the more than 150 sessions at the fair's inaugural Lawrence visit. On Saturday, the city became the third stop of the publication's national two-day event as scores of vendors lined Watson Park and lectures ranged from salvaging the human habitat to producing a cheese of one's own.
The fair concludes Sunday with a 9 a.m. to 6 p.m. slate that includes a talk from the actor Ed Begley Jr. and animal welfare expert Temple Grandin. Organizers expected about 10,000 people this weekend.
If you go
The Mother Earth News Fair continues from 9 a.m. to 6 p.m. Sunday in Watson Park. Tickets to the final day cost $25 at the gate and children 17 or younger are admitted free.
Jennifer Kongs graduated from Kansas University in 2009 with a degree in environmental studies. After interning for Mother Earth News shortly after graduation, Kongs moved to full time and was named managing editor last summer. Now a regular presence at Mother Earth News Fairs, Kongs hosted a seed-starting workshop for children Saturday before her Sunday lecture on fermenting food. Kongs said she sought to capture her own wild yeast for a sourdough bread while as a KU freshman and became interested in fermentation while trying to imagine life on her grandparents' Kansas farm before refrigeration.
"It's kind of one of the original, super-simple ways to keep food around," Kongs said.
Gianaclis Caldwell owns a farm creamery in Oregon and has written several books on the subject. She spent some of Saturday introducing audiences to the craft of making simple cheeses such as ricotta or paneer at home.
"I grew up on a total homestead," said Caldwell, who still lives off the grid on her farm. "It was difficult to find books and information or supplies. Now, there's so much here I want to sign up for."
In the middle of the park, more than a dozen horned and bearded goats from Council Grove's Paradise Ranch became the subjects of cellphone photos taken by passersby. Sergio Moreno, of Kansas City, Mo., was one such photographer as he knelt with his 3-year-old daughter, Julia Moreno Akins. Julia was shy at first before flashing a wide smile when she saw her father's iPhone pointed at her and a nearby goat.
"It's very exciting to see all of these different vendors, products, ideas and concepts together in such a big way here in the Midwest," Moreno said. "It's very exciting to me to see that there is such a real and genuine interest in these kinds of things."
Mother Earth News plans to bring the fair back to Lawrence in 2014 at a location and date yet to be determined.
Copyright 2018 The Lawrence Journal-World. All rights reserved. This material may not be published, broadcast, rewritten or redistributed. We strive to uphold our values for every story published.