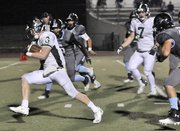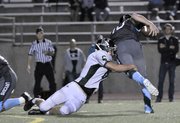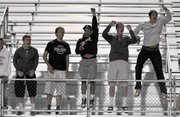 Summary
FSHS SME
First downs 11 14
Rushes-yards 28-118 59-226
Passing yards 123 116
Total offense 241 342
Return yards 94 43
Fumbles-lost 1-0 6-3
Penalties-yards 7-60 4-35
Score by quarters
FSHS 7 3 0 0 7 — 17
SME 0 0 7 3 0 — 10
Individual statistics
Rushing
FSHS: Stan Skwarlo 13-67 TD, Joe Dineen 13-39, Keith Loneker 1-10, Carson Bowen 1-2.
SME: Luke Taylor 30-121, Christian Blessen 19-63 TD, Jackson Gossick 2-23, Mitchell Tyler 4-15, Sam Huffman 4-4.
Passing
FSHS: Dineen 14-27-97 TD, Khadre Lane 1-1-26.
SME: Blessen 8-19-116 interception.
Receiving
FSHS: Lane 4-48, Zach Bickling 2-34, Blake Winslow 1-14 TD, Loneker 2-12, Lucas Werner 1-6, Joel Spain 1-5, Skwarlo 1-4.
SME: Tyler 3-53, Charley White 1-36, Alec Dean 2-27, Will Mitchell 1-6, Taylor 1-minus-6.
HOW THEY SCORED
First quarter
9:38 — Blake Winslow 14 pass from Joe Dineen. Alex Trent kick. (FSHS 7, SME 0.)
Second quarter
0:00 — Alex Trent 25 field goal. (FSHS 10, SME 0.)
Third quarter
2:38 — Christian Blessen 1 run. Colin Burns kick. (FSHS 10, SME 7.)
Fourth quarter
0:34 — Burns 28 field goal. (FSHS 10, SME 10.)
Overtime
Stan Skwarlo 10 run. Trent kick. (FSHS 17, SME 10.)
-->
-->
Overland Park — The entire second half Friday night, Free State High's football team labored as it tried to move the ball against undefeated Shawnee Mission East. If the Firebirds were lucky, running back Stan Skwarlo or quarterback Joe Dineen might run for a first down. Even when they were able to string a few pass completions together, every possession of the third and fourth quarters ended with the Firebirds punting the ball, until time ran out on them.
It's a good thing they had a chance to redeem themselves.
Skwarlo took off for a 10-yard rushing touchdown to open overtime at Shawnee Mission North District Stadium, and the FSHS defense found a little salvation, too, stopping the Lancers on four straight plays to finish off a 17-10 victory that earned the Firebirds a share of the Sunflower League championship with SME.
FSHS (5-1, ranked No. 2 in Class 6A by Kpreps.com) won the coin toss to open OT, and coach Bob Lisher elected to start on offense. The first play from scrimmage, Skwarlo gave his team its first points since the final seconds of the second quarter.
"I just saw my line give me tremendous blocks on the edge and our receivers, too," Skwarlo said of the winning score. "I saw Blake (Winslow), too, he sealed his man really well. It was just wide-open. I wasn't even touched."
Dineen said the run could not have worked out any better and gave tackle Scott Frantz credit for sealing the edge for Skwarlo (13 carries, 67 yards).
"Stan's a great running back," Dineen said. "I knew he was gonna get in."
After senior kicker Alex Trent drilled the extra point, it was up to the FSHS defense to slow down SME for once, after failing to do so at times in the second half.
The Lancers' first play on offense came nowhere close to matching the success of their opponents'. When senior quarterback Christian Blessen looked for somewhere to run, senior FSHS linebacker Lucas Werner dragged him down to the turf for a four-yard loss.
Lisher said that put his defense exactly where it wanted to be.
"They'd rather run the ball," the coach said of SME, which rushed for 226 yards on 59 carries, "but they had to throw it a little bit, and our guys had the coverage and pressure."
Lancers senior fullback Luke Taylor (30 carries, 121 yards) managed three yards on second down in OT, setting up third-and-goal at the 11-yard line. SME (5-1, ranked No. 3) dropped Blessen back to pass each of the final two plays, both incompletions.
Even though SME shared the 2013 league title with Free State, because both teams had 5-1 records in the first six games of the season, the Lancers might have won it outright had they been able to hold on to the football. After picking up just three first downs and accumulating no more than 78 yards of offense in the first half, when they trailed 10-0, the Lancers moved the ball with ease in the third and fourth quarters. However, two consecutive fourth-quarter drives ended with FSHS takeaways.
First, it was Dineen who recovered a fumble. Then senior linebacker Khadre Lane hopped on another loose ball to save the FSHS defense.
Dineen, a safety, said the defense got a little cocky after a strong first half, and SME came out and shoved the ball down the Firebirds' throats.
"Their offense works really well — five yards a pop — and they just run it down the field," Dineen said. "We get tired, and that's what their scheme is."
The wear of those sustained drives showed on the legs of the FSHS defenders in the fourth quarter, but the takeaways ultimately saved the day.
Said Lisher: "Our guys were putting a helmet on the football, putting their shoulder pads on the football, causing those. We practice that every day."
Even with four turnovers — Werner recovered a fumble in the first quarter, and Joel Spain intercepted a pass — SME scored in the final minute on a 28-yard field goal from Colin Burns to force overtime.
At the end of what Dineen called a "rough" night, FSHS only produced 241 yards of offense. In fact, its only touchdown of regulation resulted from Werner's quick reaction to a poor pitch from Blessen that ended up on the turf in the first quarter. It only took one play for the Firebirds to get in the end zone, as Dineen looked to his left and saw Winslow open for an easy dump-off pass. The senior receiver did the rest of the work, taking off for the left pylon and bulldozing through two SME would-be tacklers as he crossed the goal line less than three minutes into the game.
FSHS wouldn't score again until the last play of the second quarter. The Lancers slowed the Firebirds enough that Free State even mixed in a trick play in the final minute in order to build a larger halftime cushion. After taking a handoff from Dineen, Skwarlo gave the ball off to Lane on a reverse, and the receiver passed to an open Zach Bickling down the right sideline for a 26-yard gain that put the Firebirds in field-goal range.
Following two unsuccessful plays, both of which ended with Free State being tackled in bounds, Dineen had to spike the ball on third down to stop the clock with three seconds left. Trent came on the field to send a 25-yard field goal through the uprights as time expired on the first-half clock.
Said Dineen, who ran for 39 yards and passed for 97: "We need to get more big plays on offense, definitely."
Lisher, too, admitted he had felt better after wins than he did on this occasion.
"At least we got away with a win," the coach said, shaking his head.
Copyright 2018 The Lawrence Journal-World. All rights reserved. This material may not be published, broadcast, rewritten or redistributed. We strive to uphold our values for every story published.