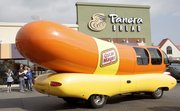 The iconic Oscar Mayer Wienermobile brought the Perry-Lecompton homecoming court to Lawrence's Panera this morning in support of the high school's fundraiser for a senior recently diagnosed with cancer.
Zach Linquist was diagnosed with leukemia last Thursday. Since then, high school students Madison Hess and Kaylee Visser have rallied their entrepreneurship class to raise money for his treatment.
"They are helping me out in every way possible," Linquist said.
Students are selling t-shirts, wristbands and, it just so happens, hot dogs.
Drivers of the Oscar Mayer Wienermobile Stephanie Corte, aka Smokey Steph, and Kacee Robbins, aka Kacee Con Queso, were contacted by the entrepreneurship class to pick up Linquist and the rest of the homecoming court and take them to one of his favorite lunch spots. As "hotdoggers," their job is to drive around the country in the Wienermobile all year and lift the spirits of anyone who may need it.
"We definitely love this part of the job," Robbins said. "It's what we live for."
Corte said they have done quite a few trips to Ronald McDonald houses to play with the kids, and recently stopped in New York to give a ride to one of the kids in the original Oscar Mayer commercials.
Homecoming nominee Annie Mehl was excited about this unconventional homecoming transportation.
"We got some looks, but I got to ride on a Wienermobile, and that's definitely a first," Mehl said.
Copyright 2017 The Lawrence Journal-World. All rights reserved. This material may not be published, broadcast, rewritten or redistributed. We strive to uphold our values for every story published.