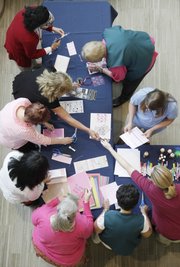 IF YOU GO
Friday, Oct. 18
A cosmetologist will be applying pink hair extensions for people to show their support for breast cancer awareness.
Where: Mario's Closet at LMH, 330 Arkansas St.
When: 11:30 a.m. to 1 p.m.
Cost: A $10 donation will go toward Mario's Closet
Friday, Oct. 25
Prizes that will be given at the Stepping Out of Breast Cancer Dance will be on display in the main lobby.
When: All day
Where: LMH lobby, 330 Arkansas St.
Saturday, Oct. 26
The 21st annual Stepping Out of Breast Cancer Dance will raise funds to support the LMHS Breast and Oncology Centers. There will be live music by the band Sellout! and drawings for prizes. A survivor's ceremony will honor and recognize cancer survivors in attendance.
When: 8 p.m. to midnight
Where: Crown Toyota Pavilion, 3400 S. Iowa St.
Cost: $40
Hospital staff, volunteers and members of the public trickled into the main lobby of Lawrence Memorial Hospital this afternoon to make cards for cancer patients while snacking on cookies and pink lemonade.
Markers, stickers, glue, glitter and paper of all colors were spread across two tables, and participants decorated their cards, including messages such as, "you've got this," "you rock" and "keep fighting."
"They're just very encouraging," said Lauren Cobb, student volunteer coordinator at LMH. "It's a cool thing."
The cards will hang in a lobby window for the rest of the month before they are distributed to patients in oncology. Last October, approximately 35 cards were given out.
Each Friday in October, LMH hosts a free activity in conjunction with Breast Cancer Awareness Month, culminating in the annual Stepping Out of Breast Cancer Dance on Oct. 26.
The purpose of the events is to get people involved with Breast Cancer Awareness Month, Cobb said, but also to draw attention to Mario's Closet, a boutique just off the LMH lobby that provides free or low-cost items for cancer patients.
Copyright 2018 The Lawrence Journal-World. All rights reserved. This material may not be published, broadcast, rewritten or redistributed. We strive to uphold our values for every story published.