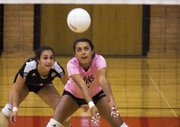 Lawrence High's Caitlin Broadwell has figured out the best way to pump up a home crowd: pound the ball off an opposing player's head.
Broadwell's spike served as the turning point Thursday night, when her swat off the noggin of North's Alexia Bascue juiced up the Lions in a 31-29, 25-22 victory over Olathe North on Thursday.
"It was one of those perfect plays," Broadwell said. "... Marlee (Bird) set me a good ball. It just was one of those sweet spots."
With the score tied 29-29 in the first game, Broadwell's laser drew a huge reaction from the LHS student section.
Following an ace from Sami Buffalomeat that sealed the first game, the LHS students — still impressed by Broadwell's shot —started an "In your face!" chant.
"It just really helped us get back up," LHS sophomore Caroline Dykes said. "We saw that it got the other team down, which really helped us steal their momentum and get our lead back."
The Lions finished off the Eagles from there, scoring four of the second game's final five points. That included a match-ending ace from Bird.
"It gave us a lot more confidence," Broadwell said. "We believed that we could win."
LHS, which also defeated Shawnee Mission East 25-17, 25-15 earlier Thursday, was able to pull out the first game against North in unlikely fashion after falling behind, 24-20.
Following a Broadwell kill, the 6-foot senior took over the serve, knowing her team still faced three straight game points.
"I really try not to focus on the score, especially when it's that close," Broadwell said. "I just focus on the basics."
Broadwell contributed an ace before kills from Keeli Billings and Cienna Sorell tied the score to keep LHS in it.
The lead changed three times before Broadwell's super-spike made it 30-29.
"I just really wanted that ball, and I really wanted to end the play and end the game," Broadwell said, "so we could win it and move on."
Broadwell led LHS with 11 kills against North, but she was helped by the emergence of Dykes. The 5-foot-10 middle blocker added two solo blocks and eight kills.
"This was one of her best games that I've seen her play," Broadwell said. "I think Carol stepped it up and helped lead the team physically by getting those kills and blocks."
Broadwell also paced the Lions against Shawnee Mission East, posting eight kills and a pair of aces. Dykes added seven kills, an ace and a block.
LHS (12-13) will play in a quad at Topeka Hayden on Tuesday.
Copyright 2018 The Lawrence Journal-World. All rights reserved. This material may not be published, broadcast, rewritten or redistributed. We strive to uphold our values for every story published.