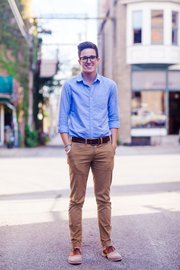 Age: 19
Hometown: Catawba, N.C.
Time in Lawrence: I'm only here for the weekend attending a conference.
Occupation: I am a sales associate at American Eagle as well as a full-time student majoring in global studies.
Dream job: I want to work in the United Nation doing human rights (work) in East Asia.
What were you doing when scouted? I'm part of an organization called Aiesec. We're here to facilitate international internships. I'm heading to a local business to get sponsors for our organization here in Kansas.
Describe your style: It's usually whatever I see at my job that I usually base my outfit on. Then I take my individual style and put my flair into it.
Fashion trends you love: It's hard to describe: I like dark slim denim. That's my thing especially since this summer is all about bright colors. It's like a trendy/edgy kind of thing.
Fashion trends you hate: Colored jeans. A couple of summers ago they were fine but now they're just out.
Fashion influences: American Eagle. I work there all the time so I get to see all the trends there.
What would you like to see more of in Lawrence? I like the downtown area and how many shops, restaurants and cafes there are to visit.
What type of music do you unwind to? Usually alternative music.
Tell us a secret: I'm open and honest. I really don't hold secrets.
Copyright 2018 The Lawrence Journal-World. All rights reserved. This material may not be published, broadcast, rewritten or redistributed. We strive to uphold our values for every story published.