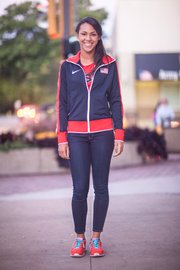 Age: 17
Hometown: Lawrence
Favorite subject: Pre-med. I go to Free State High School.
Dream job: Orthopedic surgeon
What were you doing when scouted? Going to dinner with our other homecoming candidates.
Describe your style: Fashionably sporty!
Fashion trends you love: I like camo a lot and I do wear a lot of navy (colored clothes), too.
Fashion trends you hate: Oh! I'm not a big fan of high-waisted shorts. On most people they don't work or they're too high!
Fashion influences: Olympic athletes like Allyson Felix and Sanya Richards-Ross.
What would you like to see more of in Lawrence? Well-dressed guys!

Less of? Really short shorts on girls.
Tattoos or piercings: Just my ears.
Whom do people say you look like? Beyonce
What type of music do you unwind to? Hip-hop and R&B;
Tell us a secret: I went to the Ukraine to represent the U.S in track and field. I competed in the heptathlon.
Copyright 2018 The Lawrence Journal-World. All rights reserved. This material may not be published, broadcast, rewritten or redistributed. We strive to uphold our values for every story published.