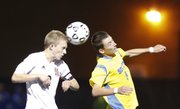 One reason Conner Henrichs is so good at using his head on a soccer pitch is that he's so good at using his head.
You never hear Lions soccer coach Mike Murphy light him up with, "Hey, kid, use your head!"
Henrichs already does so in every interpretation of the expression.
Not all of the senior center midfielder's terrific passes fly off his feet. He is quite adept at directing the ball to a target with his head as well. He's way ahead of the competition in that regard.
"He understands the game so well he's always in the right spot. He reads the ball really well in the air," Murphy said. "And he's a basketball player. He can jump. What is he, about 6-1? But he plays like he's 6-4 because he's so athletic."
How does Henrichs not go home from every game with a splitting headache?
"You learn to hit it in the correct spot, and you can hit it, and it doesn't really hurt," he said.
The correct spot, Henrichs said, is, "right on the forehead. Sometimes if you hit it on the top of your head, it stings really bad because it ends up ripping your hair."
Murphy was more specific: "Right where your hairline is on your forehead is kind of the ideal spot for it. You have a little more control. You can still see it."
As is the case with so many exceptional athletes, Henrichs makes his extraordinary skill sound so simple.
"Over time you learn where to hit it so it doesn't hurt and how to direct it," Henrichs said. "I just look where I'm going to try to head it to and move my head in that direction."
Henrichs was quick to point out that he has several teammates who know how to use their heads as well.
"Parker (Davies) can direct them well," Henrichs said. "Ellis (Springe) can direct them well. We're all pretty good at heading the ball when it's in the air. Being able to locate it, get under it correctly and then head it to where we want it to go."
A varsity player since early in his freshman year, Henrichs earned all-state honors at halfback a year ago.
"He's more athletic than anyone else on the team," Murphy said. "Smart, tough, no fear. He won't ever hesitate going in to win a ball, initiate the contact. That's huge for us."
With the graduation of Justin Riley — "one of the better players to ever come through this program," according to Murphy — Henrichs made a seamless transition in moving up to center midfielder.
Copyright 2018 The Lawrence Journal-World. All rights reserved. This material may not be published, broadcast, rewritten or redistributed. We strive to uphold our values for every story published.