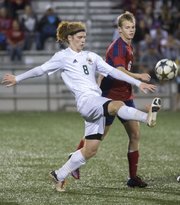 The streak is dead. Barely.
Jordan Patrick scored the only goal as Free State High slipped past Olathe North, 1-0, in Sunflower League soccer on Thursday at FSHS.
Eduardo Carballido assisted on the goal — Free State's first in five games and just the Firebirds' third in eight games.
"We played really well and created chances," FSHS coach Kelly Barah said. "We are just excited to finally have scored because it's been awhile since we have."
Free State (4-7-1) will travel Tuesday to Olathe East.
Copyright 2018 The Lawrence Journal-World. All rights reserved. This material may not be published, broadcast, rewritten or redistributed. We strive to uphold our values for every story published.