While strolling down Mass. Street last week, I couldn't help but to stop into Earthbound Trading Co., 916 Massachusetts St.
I had never been into the store before because honestly, I didn't really know about it, but like any new-to-me store, I had to check it out. This bohemian mecca is filled with fabulous finds at amazing prices – there's no exaggeration there. You could easily walk out with an outfit, accessories and all, under $100.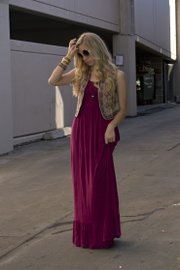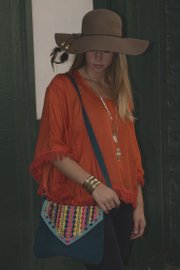 The laid-back, boho-chic look is such a huge trend right now and has been for the past few seasons, so I knew I could find something from Earthbound to reflect the look.
It was actually difficult to throw something together because they had so many cute pieces that I couldn't decide. Needless to say, Elizabeth and I styled a few looks that you should definitely try out during these transitional temps Mother Nature has been handing us lately.
Cautiously layer
You might ask why we are "cautiously" layering. Well, if you haven't noticed, it's chilly in the mornings and by 2 p.m. you're sweating from layering on your heaviest pieces.
I layered with a light embroidered vest and stuck with a long maxi dress. You could also add a scarf for more "cautious layering" or even a light jacket depending on the weather.
I prefer a vest for this time of year, especially if you're wearing longer lengths like this maxi dress. I chose this deep wine color because all of those rich, dark tones are perfect for fall. Since the dress is a solid color, the vest adds a lot of interest with its colorful embroidery. I accessorized with boho-worthy, super oversized shades, layered bracelets and a long necklace.
This look will definitely defeat those unstable temperatures while keeping your wardrobe ready for fall!
Everyday casual
When I think of the bohemian style, I envision casual, carefree attire; that's exactly what Elizabeth pictured when she styled her look.
An orange, oversized top with fringe trim caught her eye when we first walked in. Since it's such a flowy top, she opted to keep her bottoms fitted with skinny jeans. She continued on the casual vibe with an oversized floppy hat, and neutral gold ballerina flats to balance out the vibrant color of her top.
Long, layered jewelry accentuates the all-over bohemian look, and an embellished crossbody bag with interesting embroidery really completes the outfit. This is another transitional option that's ideal for a cool-to-warm fall day.
If you're feeling the boho vibe this fall, I would advise you to check out Earthbound Trading Co. If you're not feeling the boho vibe this season, I would still encourage you to check it out for their assortment of unique and eccentric pieces that would fit anyone's style.
— Emily and Elizabeth Kennedy are twin sisters and fashion bloggers who share a blog called Fashion Column Twins. They can be reached at fashioncolumnblog@gmail.com.
Copyright 2018 The Lawrence Journal-World. All rights reserved. This material may not be published, broadcast, rewritten or redistributed. We strive to uphold our values for every story published.