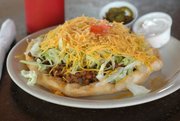 Outside of fair week and summer festivals, Indian Tacos get harder to find. But on one day a week, hungry bikers can be found chowing down on them at Slow Ride Roadhouse in North Lawrence. Their Tuesday special features a plate-filling round of puffy frybread heaped with beef and beans, shredded lettuce, cheese and tomatoes.
Where to get it: Slow Ride Roadhouse, 1350 N. Third St.
What you'll pay: $5.49
Try it with: Sour cream and house-made salsa — go for the spicy.
Also on the menu: Nachos, Biker Wings, Roadhouse Chili, "Hog" Tenderloin and other sandwiches, burgers and catfish baskets. One-day-a-week specials include meatloaf and chicken-fried steak. On weekends, the Roadhouse serves hearty breakfasts from 8 a.m. to noon.
Copyright 2018 The Lawrence Journal-World. All rights reserved. This material may not be published, broadcast, rewritten or redistributed. We strive to uphold our values for every story published.