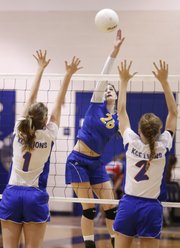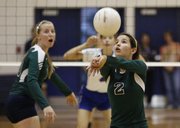 Veritas Christian School won both its matches on Tuesday at the Bishop Seabury Academy triangular, defeating Seabury and Kansas City East Christian Academy.
Veritas (22-5) defeated KC East, 21-25, 25-16, 25-14, and Seabury, 25-21, 25-23.
Senior Teri Huslig compiled 35 kills, 18 assists and six blocks in the tri. Junior Lacey Billings had 13 kills, 19 assists and six blocks, and freshman Alyssa Krestan had three aces and 15 digs.
Seabury (10-14) defeated KC East, 20-25, 26-24, 26-24.
Sophomore Ellen Almanza had 14 kills, four aces and four digs, and junior Reilly Malone tallied 14 kills and seven digs. Sophomore Taylor Hodge compiled 10 kills, 17 aces and 16 digs, and Celia Taylor-Puckett had 38 assists.
Veritas plays Thursday at the Topeka Heritage triangular, and Seabury travels to Wathena on Saturday for the Riverside Tournament.
Copyright 2018 The Lawrence Journal-World. All rights reserved. This material may not be published, broadcast, rewritten or redistributed. We strive to uphold our values for every story published.