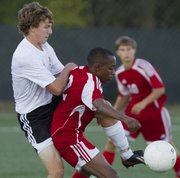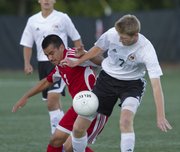 Free State soccer coach Kelly Barah changed up his team's shooting practices this week. Next game, he's going to try a different pregame speech.
Eventually, Barah believes something is going to break the Firebirds out of their scoring funk, which lasted another 80 minutes in a 1-0 loss to Shawnee Heights on Monday at FSHS.
"I think we actually have to relax more now," Barah said. "We're creating the chances in front of the goal, so we're pressing too much to get that first one."
Free State's players could be forgiven if they started to feel some scoring anxiety. The Firebirds have been shut out of their last three games and also in seven of their last eight. During that eight-game stretch, FSHS has combined for just two goals.
"We have good enough players to score," FSHS senior midfielder Alex Trent said. "It's just somebody has to get one in."
The Firebirds (3-6-1) had better chances in the second half after failing to put a shot on goal in the first 40 minutes.
In the 47th minute, Will Laufer crossed to Trent, who headed the ball, only to have it saved by Heights keeper Sage Cavazos.
Then, in the 74th minute of a scoreless game, Josh Hodge centered it to midfielder Chris Allen, whose hard roller was scooped up by Cavazos in front of the net.
"It's just a tough game, and it's going to punish you if you don't treat it right," Allen said. "Getting goals is a way we need to treat the game right."
Heights (5-5) answered that attack with a quick counter, and in the 75th minute, Trevor Gentry crossed to Pavin Cole, who ricocheted the ball into the net for the game's only score.
"I thought we had it covered, but I guess somebody just slipped in the back," Trent said. "Communication was great, though, the whole game. Even on that play, communication was good. We just have to capitalize."
The game was even statistically, as Shawnee Heights held slight advantages in shots (12-11) and shots on goal (7-5). Free State held a 5-4 shots-on-goal edge in the second half.
Barah said he'll continue to keep adjusting. After having two shooting lines in practice warm-ups earlier in the year, the Firebirds are now lining up in four or five lines, working on their shots after getting passes from teammates.
"We're trying every single thing in the book right now and trying different people up there as well," Barah said. "We'll see which one works."
Free State will play at 6:30 tonight at Shawnee Mission South.
Copyright 2018 The Lawrence Journal-World. All rights reserved. This material may not be published, broadcast, rewritten or redistributed. We strive to uphold our values for every story published.