Photo Gallery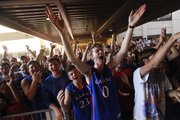 2013 Late Night in the Phog
Images from all the festivities of Late Night in the Phog
When the Kansas University women's basketball team first heard about the lineup for its portion of Friday's Late Night festivities, KU coach Bonnie Henrickson had some educating to do.
Henrickson, who originally was asked to dress as Diana Ross for her team's dance-a-thon, settled on Cher because she thought she had a better chance of pulling it off. So, with a three-foot-long black wig and a wool coat, Henrickson led her squad of mostly new faces onto the floor to sing, dance and pay homage to various decades of music from the past.
"Considering half my team doesn't even know who Cher is, I thought it went well," said Henrickson, noting that she'd be sending out YouTube links to her squad.
For the newcomers, such as 6-foot freshman guard Dakota Gonzalez, Late Night represented the chance finally and officially to kick off their time as Jayhawks.
"Since last year, when I came to Late Night on my official visit, I've really been looking forward to this," Gonzalez said. "I love it. Dancing, singing, whatever."
Asked for her favorite part of the night, Gonzalez did not hesitate with her answer.
"Watching my teammates go out and show their personalities," she said. "Markisha Hawkins was a nice surprise because she didn't really show all of her personality during rehearsals."
After the dancing, a highlight video of past KU performances and video-board messages from former KU greats Danielle McCray and Angel Goodrich, the KU women dropped the dance garb and donned shorts, jerseys and sneakers for a 12-minute scrimmage. Because Henrickson only had 11 players at her disposal, the scrimmage featured Jayhawks flipping sides, with the Blue squad topping the Red, 12-7. Senior CeCe Harper, junior Asia Boyd and sophomore Lamaria Cole took care of most of the scoring, but it was junior guard Natalie Knight's return from a knee injury that had most Jayhawks smiling.
"Oh my gosh, yes," Henrickson said of Knight's return. "Then for her to make a move like that (quick, cutting drive to the basket that rimmed out). More than physically, I think it shows where she's at mentally, and that's big."
As for Knight's assessment of her return, the returning starter said her injured knee was 100 percent and that she was thrilled to be back.
"It feels good," Knight said. "It's hot, but it feels good. Everything seems like it's going really fast, but the earlier the better. Basketball season is great."
Added Henrickson: "The girls were so disappointed with how they played, and we didn't play well, but it's not an indicator. We had our best practice (Thursday), and we'll probably have another good one (today)."
Copyright 2018 The Lawrence Journal-World. All rights reserved. This material may not be published, broadcast, rewritten or redistributed. We strive to uphold our values for every story published.