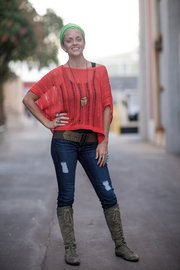 Name: Jessica Phoenix
Age: 30
Hometown: Oz, Kan
Time in Lawrence: Off and on since 2001
Occupation: Toddler mama. I also work at Earthbound Trading Co. on Mass St.
Dream job: A mama dancer, singer, artist, model, actress, writer, gypsy and philanthropist extraordinaire!

What were you doing when scouted? Taking a break at work.
Describe your style: It depends on the role I'm playing. Today, my style is hippy chic!
Fashion trends you love: I love anything that creates a vibrant and earthy image or one that celebrates a classic silhouette. I'm a fan of gaudy rings and crystals right now. I've tried to wear huge rings on every finger like Stevie Ray or Liberace but when I did that my hands became useless! How do they play like that?!
Fashion trends you hate: Hate is a strong word that I'd rather not use but there are definitely some trends that bother me. However, I'm an advocate for wearing whatever you want so if walking around with your biscuits hanging out of your high waisted super-short jorts is something that makes you feel good, then don't let me stop you!
Fashion influences: The beautiful people of Lawrence influence me! There are so many Lawrencians who own their individuality that I can't help but be inspired to do the same.
What would you like to see more of in Lawrence?  
More feasibly priced commercial spaces for innovative, artistic and intelligent entrepreneurs. We should have many more locally owned businesses as well as real estate tycoons who show an interest in the many people and things that make Lawrence so special. It would be lovely to see them sit back and pull some strings while enabling the charm of this town to be developed by the hands of the charming. Also, public restrooms downtown would be awesome!
Less of?  Red tape for small business development, cigarette butts and other litter and less people urinating all over downtown would be lovely.
Tattoos or piercings: Yes, my favorite is the ink that starts at my widow's peak and ends at the base of my neck.

Whom do people say you look like? Depending on my hairstyle, when it was i long people said I looked like Mena Suvari or Heather Graham. When it's short, I hear Twiggy or Edie Sedgwick. When I had a shaved head, I inevitably heard Sinead O'Connor or the broke down version of Britney Spears! In reality, I just look like my Ma and Pa!
What type of music do you unwind to:  Mazzy Star or John Coltrane. I also dig classical music on NPR.
Tell us a secret: You will find out soon enough!
Copyright 2018 The Lawrence Journal-World. All rights reserved. This material may not be published, broadcast, rewritten or redistributed. We strive to uphold our values for every story published.