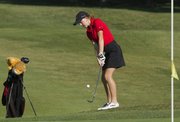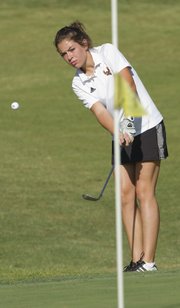 With two holes left to play Tuesday at Alvamar Golf Course, Lawrence High senior Abby Schmidtberger and Free State junior Emily Bermel walked toward the tee box and chatted back and forth about how they wanted to finish the Lawrence High Golf Invitational in style. Their plan: pars for both of them, then see what happens when scores get posted outside of the clubhouse.
"When I bogeyed the first hole and she parred it," Schmidtberger said after the tournament, "I knew that I needed to step up a little bit."
The Lions senior didn't know it at the time, but she and Bermel had taken the exact same number of strokes entering their group's final hole, No. 2. Schmidtberger wanted a five, for par, to finish the day. She earned it as Bermel bogeyed the hole, and Schmidtberger's 84 proved to be the top score among city players, beating Bermel by a single stroke.
The LHS senior tied for 11th place, finishing just outside of the top-10 medalists (Garden City's Abby Shaddis and Olathe Northwest's Audrey Judd led the way with 71s). Schmidtberger left Alvamar impressed by Bermel, whom she had never played alongside.
"I knew that she was a good golfer, and I didn't think I would beat her today," the Lions' top performer said. "But I played my best and she played pretty well, also. It just came down to little strokes that made the difference between us, but I think we're both good golfers."
Unlike her friend from LHS, Bermel knew just how close the two were entering their 18th hole, which began for her with a drive into the trees.
"I had a lot of trouble to get out of," the FSHS junior said.
Once she chipped out of the rough, she still had a long way to go to get on the green and had to settle for a six. Bermel didn't think her 85 (tied for 15th) was an awful score — she labeled it as fair — but she didn't know what to think of it after the fact.
"I didn't play bad, but I didn't play as well as I was expecting," Free State's top golfer said.
That number in particular bothered her, because 85 was a score she hovered around as a sophomore last season.
"I'm just looking to keep improving," the confident junior said. "When I shoot something I shot last year, it just makes me feel down kind of, because I feel like I should be a lot lower than that (in strokes)."
For some reason, Bermel never could get a feel for the greens and she said her putting suffered as a result. Schmidtberger wasn't thrilled with her putting, either, but Bermel said the LHS senior played a steady round, as proven with the 42 strokes it took her to complete both her front and back nine holes.
"Abby always stays really positive and really consistent," Bermel said. "She never really had any blow-up holes. If she had a bad hole it was like a bogey, or a double maybe."
When Schmidtberger ran into trouble on the greens, she had at least reached in regulation. So her three-putts stuck with her once the round ended.
"I could've dropped a bunch of strokes," she said of makeable putts. "I could've been in the 70s probably."
Two other city players broke 100 at the tournament. Free State junior Karen Campbell finished tied for 29th, with a 91, and Lawrence senior Campbell Drake tied for 33rd at 92.
Olathe Northwest (345) won the tournament, beating both Shawnee Mission East and St. Thomas Aquinas by three strokes.
Free State (384) took 10th at the 18-team event and Lawrence (408) was 14th.
---
Lawrence Invitational
Tuesday at Alvamar Golf Club
Par: 72
Team scores: 1. Olathe Northwest 345; T2. Shawnee Mission East 349; T2. St. Thomas Aquinas 349; T4. Maize 355; T4. Manhattan 355; 6. Blue Valley North 361; 7. Shawnee Heights 362; 8. Blue Valley Northwest 368; 9. Olathe East 381; 10. Free State 384; 11. Olathe South 393; T12. Blue Valley 396; T12. Topeka 396; 14. Lawrence 408; 15. Shawnee Mission Northwest 413; 16. Blue Valley West 431; 17. Bishop Miege 464; 18. Shawnee Mission North 496.
Free State results: T15. Emily Bermel 85; T29. Karen Campbell 91; T58. Catie Griffin 100; T81. Maddie Williams 110; T94. Erin Meyers 116.
Lawrence results: T11. Abby Schmidtberger 84; T33. Campbell Drake 92; T87. Gracie Reinsch 112; T103. Maddie Goscha 120; 113. Izzy Schmidtberger 128.
Copyright 2018 The Lawrence Journal-World. All rights reserved. This material may not be published, broadcast, rewritten or redistributed. We strive to uphold our values for every story published.