Contact KU and higher ed reporter Sara Shepherd
Have a tip or story idea?
---
More stories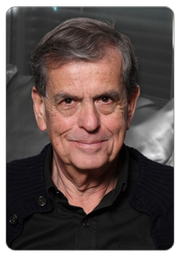 A Nobel Prize-winning Israeli scientist will speak at Kansas University next week about his research as well as the exploding world of personalized drugs.
The Kansas School of Pharmacy will host the 13th Takeru Higuchi Memorial Lecture, named after late KU pharmacy professor Takeru Higuchi, on Monday. This year's Higuchi lecture will feature Aaron Ciechanover, a distinguished research professor at the Technion - Israel Institute of Technology in Haifa.
Ciechanover will present a technical lecture at noon at the School of Pharmacy Building on KU's west campus. That will be followed by a 5:30 p.m. lecture aimed at the general public titled "The Revolution of Personalized Medicine: Are we Going to Cure All Diseases and at What Price?"
Ciechanover was born in Haifa, Israel, and studied medicine at Hebrew University in Jerusalem. He completed mandatory service in the Israeli armed forces as a military surgeon and later earned a doctorate in biological sciences, followed by postdoctoral work at the Massachusetts Institute of Technology.
Much of Ciechanover's work centers around the ubiquitin system in cells, which drives protein degradation and in turn plays a strong role in several cellular processes, including cell-cycle regulation, DNA repair, cell growth and immune function.
Dysfunction of the ubiquitin system can contribute to cancer as well as neurodegenerative and immunological disorders. Given its importance, the system has become a major focus in drug development, and Ciechanover's research has led to drugs that fight various diseases.
Ciechanover, together with Avram Hersheko and Irwin W. Rose, won the 2004 Nobel Prize in chemistry for their research into the ubiquitin system's role in protein degradation.
Ciechanover is not the first Nobel laureate to become a Higuchi lecturer. Valentino Stella, a distinguished professor of pharmaceutical chemistry at KU who studied and later worked under Higuchi, and who now helps to pick the Higuchi lecturers, said the event is "becoming quite a prestigious invitation."
Though he adds with a laugh, "It's not quite the Nobel Prize."
Copyright 2018 The Lawrence Journal-World. All rights reserved. This material may not be published, broadcast, rewritten or redistributed. We strive to uphold our values for every story published.