They were described as passionate, entrepreneurial, civic-minded. On Tuesday night, four men who helped shape the local business community were inducted into the Lawrence Business Hall of Fame.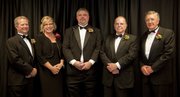 Dolph Simons Jr. of The World Company, Chuck Magerl of Free State Brewery, Sherry Schaub of Quaker Oats Co. and Bob Georgeson of Douglas County Bank were this year's laureates, honored at a ceremony at the Kansas Union. The Lawrence Business Hall of Fame is a project of Junior Achievement of Lawrence, which teaches local school kids the value of business and America's free-enterprise system.
Georgeson, who died in 2010 after working as a local banker for five decades, was recognized as an individual who dedicated his life to banking and to Lawrence. Former colleagues described him as a gentle mentor figure who was deeply committed to serving the community he loved.
"He poured his time and his talent and his heart in making Lawrence a special place to work and play and live out life," said his daughter, Karen. She added that, in a speech, her dad once encouraged young businesspeople "to be as active as you can, make a difference — the opportunities are endless."
Friends and colleagues described Magerl as a "genius" who turned Free State Brewery, which he owns, into a Lawrence attraction, decades before the current craft beer renaissance — and helping to get the state's liquor laws changed in the process.
"The more we introduce kids to the world of business, the greater their sense of what the challenges and opportunities will be," said Magerl, who noted that he participated in Junior Achievement as a teenager.
Schaub, a retired Quaker Oats executive who helped bring a pet food factory to Lawrence in the late-1970s, credited the people who worked with him for the plant's smooth opening and higher-than-average profitability.
"They're the heroes," the former plant manager said of his employees. "They're the ones who make it happen. They very much deserve in this honor tonight."
Simons, chairman of The World Company and editor of the Lawrence Journal-World, was described as a lifelong newspaper man who never rests on his laurels and wants everyone around him to improve.
He expanded the newspaper business his grandfather started in 1891 into such ventures as cable television and the Internet, keeping his company successful amid a changing industry.
"We've got to drive with our brights," he said, sharing one of his favorite business mottos.
Copyright 2018 The Lawrence Journal-World. All rights reserved. This material may not be published, broadcast, rewritten or redistributed. We strive to uphold our values for every story published.