West Middle School served up lunch today for two of the state's top appointed officials, with much of the food on the menu coming directly out of the school's own garden.
"I think it's great," Agriculture Secretary Dale Rodman said as he munched on a green leaf salad. "We don't all grow up on a farm anymore, and this is really part of a process of life about where food comes from and how it's produced and what really happens in the process, so I think it's really good."
Rodman and Kansas Education Commissioner Diane DeBacker came to West to see how a program called "Farm-to-School" is working in the Lawrence school district.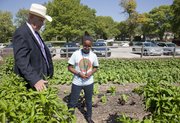 That's a program that has been adopted in many states and school districts around the country with the goal of connecting public schools with local farmers to promote healthy meals in school cafeterias, improve student nutrition, and teach students about agriculture, health and nutrition.
But a few schools in Lawrence have taken the effort a little further by starting their own gardens on school grounds and having students themselves work the garden and harvest the produce.
West Principal Myron Melton said that since 2010 when the program began, the school's garden has produced over 10,000 pounds of food. Of that, he said, 1,650 pounds have gone straight to the school cafeteria. The rest, he said, is sold through the Community Mercantile Coop, or directly to consumers, with all of the proceeds coming back to the school to keep the project going.
Two of the nearby grade schools that feed into West — Hillcrest and Sunset Hill — have since started their own gardens as well. Between them, they now till about 14,000 square feet of garden space that generated about $4,000 in income last year.
He said many of the students who work the garden are former West students now attending Free State High School. They are employed and paid by the Community Mercantile, Melton said.
But Melton said it isn't just about production and money.
"I notice a big difference in the number of students who will go through a salad bar, particularly when they see that West logo on there," he said. But after mentioning that to students, he said, "they informed me it wasn't so much about the logo. It just tastes better."
Rodman and DeBacker were joined on the tour by some members of the State Board of Education, the Lawrence school board and other local elected officials.
After lunch, they toured the garden just outside the cafeteria where students showed them around and explained how it worked.
"One of the biggest impacts is that it has taught me the true meaning of 'you are what you eat,' eighth grade student Di Gardener said. "It has also impacted me, not only in healthy eating but a healthy lifestyle. For me, it kind of branched out to my peers and my family."
Melton noted that the garden would not have been possible without help from community partners, including the Community Mercantile; Main Street Credit Union, which donated a shed to store tools and material; Home Depot, which donated material and labor to build the fencing around the garden; and the school district itself which, among other things, installed the irrigation system.
After the tour, DeBacker said she was impressed by the project.
"School lunch programs in the past year or so, they've taken a little bit of criticism," she said, referring to controversial new federal standards governing school lunches. "But if you ate that lunch today, you're apt to say, why are we criticizing school lunches, because that was fantastic."
Education news
Have a story idea?
Contact Journal-World education reporter Elliot Hughes:
ehughes@ljworld.com
Copyright 2018 The Lawrence Journal-World. All rights reserved. This material may not be published, broadcast, rewritten or redistributed. We strive to uphold our values for every story published.