Photo Gallery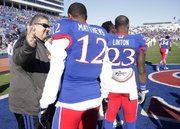 KU football vs. Kansas State
Kansas University lost to Kansas State 31-10 in the final game of the season, Saturday at Memorial Stadium.
Press Conferences & Post-Game Interviews
Charlie Weis talks after 31-10 loss to Kansas State
Charlie Weis talks after 31-10 loss to Kansas State
Kansas State 31, Kansas 10
For the heavy underdog to have a chance against its in-state rival, there's a laundry list of things that must go right.
Included among them are: Win the turnover battle, limit mistakes, control the clock and catch an unusual break of some kind.
Saturday, in front of a split crowd of 43,610 fans at Memorial Stadium, Kansas University's football team ended the 2013 season by misfiring in each area, and the result was a 31-10 loss to Kansas State.
By far, turnovers dealt Kansas the biggest blow. The Jayhawks coughed it up six times and took it away just twice.
"When you turn it over 100 times, the chance you have to come back in a game like that just goes out the window," second-year KU coach Charlie Weis said. "Turnovers are part of the game. It was just how they all packaged together. Turnovers are the thing that change the game more than any other element in football."
After falling behind 21-0 after one quarter and 10 seconds, it looked as if the Jayhawks might have been on pace for another one of those 50-something-to-not-a-lot beatings handed out by the Wildcats during the past three seasons. During the first 15:10 of game time, the Wildcats racked up 149 yards on just 13 plays while limiting the Jayhawks to 29 yards on nearly twice as many snaps.
While KSU's defense stacked the box to stuff the run, the Wildcats' offense gave the KU defense fits.
"It's tricky," KU senior safety Dexter Linton said of the KSU offense. "We were focused, but Kansas State's offense is so complex that you really have to dig deep, and I guess we didn't do that in the beginning."
That was particularly true on two long passing touchdowns in which a K-State receiver slipped behind the defense after KSU quarterback Jake Waters sold the fact that he was going to run it and then stepped back and threw a "pop pass" over the top. The second such pass, a 29-yarder to Glenn Gronkowski on the second play of the second quarter, put the Wildcats up 21-0. Things changed from there, but the early hole proved to be way too much for Kansas and its limited offense.
"I thought our defense hung in there and gave us a chance to fight back," Weis said.
That included stops late in the first half and early in the second half that gave the Jayhawks a chance to score.
Junior quarterback Jake Heaps, who came in off the bench during the first quarter in relief of ineffective freshman Montell Cozart, hit junior tight end Jimmay Mundine for an 11-yard touchdown pass on fourth-and-two with 3:53 to play in the half, and senior Ron Doherty knocked a 31-yard field goal through with 1:06 to play in the second quarter to cut the halftime deficit to 21-10.
That's where it stayed until the 3:10 mark of the third, when KSU responded to the Jayhawks' fourth turnover of the day with a 15-yard touchdown run by Waters to go up 28-10.
"Coming out of the half, we really had a lot of momentum," KU senior center Gavin Howard said. "We had 'em back on their heels, our defense came up with a stop, and we ended up turning the ball over. I would've never guessed that we would turn it over six times. ... Those are killers."
The Jayhawks surrendered one-third as many turnovers Saturday as they had all season. That included three interceptions thrown by Heaps and two fumbles by senior running back James Sims.
One of pickoffs, a Dante Barnett interception off the hands of Mundine, was bigger than the rest, as it came with the Jayhawks trailing just 21-10 and marching to cut the KSU lead to one score.
"It goes down as an interception," said Weis of the ball Mundine bobbled twice before losing. "You want to talk about the cheapest interception of all time. I told Jimmay they should count that as a fumble."
The loss dropped the Jayhawks to 3-8 overall and 1-8 in Big 12 play. Both numbers represent progress in the win column, but Weis and the two seniors who spoke with the media following Saturday's loss to the Wildcats (7-5, 5-4) weren't feeling too good about improving on last year's 1-11 record as they left Memorial Stadium for the final time this season.
"Right now, we just lost to K-State, so I'm not looking at it very favorably," Weis said of the season. "We lost to our state rival, and right now that Governor's Cup is sitting in their locker room, and they're partying in their locker room, and my guys are sulking."
Copyright 2018 The Lawrence Journal-World. All rights reserved. This material may not be published, broadcast, rewritten or redistributed. We strive to uphold our values for every story published.