Photo Gallery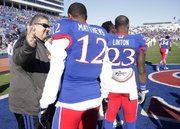 KU football vs. Kansas State
Kansas University lost to Kansas State 31-10 in the final game of the season, Saturday at Memorial Stadium.
Kansas State 31, Kansas 10
Kansas State's featured running back, senior John Hubert, made up in one day for an inconsistent season that started slow and finished strong.
Hubert, a native of Waco, Texas, rushed for 220 yards and a touchdown on 30 carries Saturday, leading K-State to a 31-10 victory against Kansas in Memorial Stadium.
Another way of looking at Hubert's big day: He gained 28 more yards on the ground against KU than he had in his six least-productive games combined.
Hubert set career highs in carries and rushing yards on the day he moved into second place on K-State's career rushing list with 2,913 yards, behind only Darren Sproles (4,979).
Hubert became the first K-State player to rush for 200 yards in a game since Daniel Thomas gained 269 yards on the ground against North Texas in 2010.
"John was John," Wildcats wide receiver Tramaine Thompson said. "He's a beast."
Kansas State coach Bill Snyder ran his record against KU to 18-4, including an 8-3 mark in games played in Lawrence, and to a large extent, he had Hubert to thank for this one.
"I just got done talking to John," Snyder said after the game. "I told him how proud I was of him. He ran extremely hard and that's what has been important for him. He reads holes pretty well, so sometimes he gets caught dancing. Today he didn't. He got his pads down and spun off of blocks and ran hard. I'm really proud of his effort."
Copyright 2018 The Lawrence Journal-World. All rights reserved. This material may not be published, broadcast, rewritten or redistributed. We strive to uphold our values for every story published.