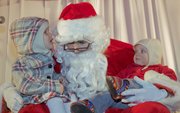 People began crowding around the corner of Ninth and Massachusetts Streets around 5 p.m. Friday in preparation for Santa's annual visit to Lawrence.
At the stroke of 6 p.m., Mayor Michael Dever flipped the switch to turn on the lights wound around the trees along Massachusetts Street. After counting down from 10, there was a pop of green, red, blue and white lights, signaling the beginning of the holiday season.
Moments later, hundreds aimed their phones and cameras in the direction of Weaver's Department Store. People spilled into the street and parents hefted their kids onto their shoulders to get a better glimpse of the main event: Santa's rescue.
"He's on top of Weaver's?" said Richard Renner, emcee of the event. "No, he did that last year."
Santa does this every year during the Holiday Lighting Ceremony. And each year, crowds come out to see his rescue before kids line up to recite their wish lists.
The entertainment continued Friday evening as firefighters from Lawrence-Douglas County Fire Medical used a ladder truck to retrieve Santa. They then escorted him from the roof, down the ladder and through the hoard of frenzied kids.
"Let's make room for the big guy," Renner said. "Santa is open for business, and Christmas has started in downtown Lawrence."
With that, kids were led on stage one-by-one to talk briefly with Santa before getting a cookie and reuniting with their families.
Bobby Richardson helped one daughter, Elizabeth, 4, on stage Friday evening while holding his other daughter, Mable, 10 months. Both girls sat on Santa's lap while their mother, Joany, snapped a photo from below.
The family waited in line so Elizabeth could tell Santa what she wanted for Christmas: "A baby doll," she said.
Sally Zogry, executive director of Downtown Lawrence, Inc., estimated between 1,000 and 2,000 people attended the ceremony Friday evening.
"We had really good crowds," Zogry said. "They came early and were enthusiastic."
Copyright 2017 The Lawrence Journal-World. All rights reserved. This material may not be published, broadcast, rewritten or redistributed. We strive to uphold our values for every story published.