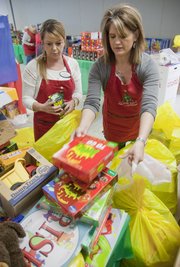 Each December, Douglas County Toys for Tots secures a storefront in Lawrence and sets up shop — a toy shop, that is.
Joyful music fills the air. Dolls, action figures, puzzles, board games and stuffed animals abound.
But it's not your everyday toy store.
"It's not a toy shop for children to come to," said Mary Jones, coordinator of Douglas County Toys for Tots. "It's a toy shop for parents."
This year's Toy Shop will be at 4931 W. Sixth St., Suite 118 from Dec. 10 to Dec. 24. The shop is open from 10 a.m. to 6 p.m. Tuesday through Friday and from 9 a.m. to noon on Saturday.
Toys for Tots and Blue Santa, the Lawrence Police Department's holiday gift-giving organization, collaborate during the Toy Shop.
"We really want to help the working poor, those who are struggling who can't get help other places, who are trying," Jones said. "If they go buy toys for their kids, they maybe won't be able to pay their utility bill."
Parents should bring proof of residency in Douglas County and proof of their children's birthday, Jones said.
People can donate new, unwrapped toys at locations around Lawrence from late November until Christmas. A list of drop-off locations can be found on the Toys for Tots website.
Volunteers act as "shopping carts" for the parents who come to the Toy Shop. They walk around with the parents, carry the items they pick out and help take the items to their cars when they're done.
Bev Hill, volunteer coordinator for Douglas County Toys for Tots, said she needs about 150 volunteers to help with the Toy Shop each December.
Community members who would like to volunteer to help at the Toy Shop can sign up for two-hour shifts by calling Hill at 785-766-0104.
During the past few years, Toys for Toys has helped about 2,200 Douglas County children celebrate Christmas with gifts. Jones said they usually spend about $20,000 each year, which is raised during charity events throughout the year.
Many parents have said that without Toys for Toys, their children wouldn't have gifts for Christmas, Hill said.
"If that doesn't put chills down your spine," she said, "I don't know what will."
Copyright 2018 The Lawrence Journal-World. All rights reserved. This material may not be published, broadcast, rewritten or redistributed. We strive to uphold our values for every story published.