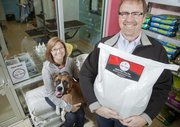 Rex Rexroad is a finicky eater. His owners, Angie and Gary Rexroad, are glad he is.
They weren't always happy about it. They struggled through several kinds of food trying to meet the standards they say are most important to dog owners: how it tastes, how nutritious it is and how it comes out the other end. They just never expected they would one day be manufacturing that food themselves.
"All three of these (standards) have to be right," Gary said; for the Rexroads, they kept turning out wrong (particularly the last one). That is, until the Lawrence couple found, through the service dog community (Rex works with special-needs students at Schwegler School), a food made by a man in Nebraska who supplied therapy dogs across the region.
Rex tried it, and it passed the taste, nutrition and digestion tests. It also met something else more important to humans than their four-legged friends: the price test. The Rexroads had found their food.
On a recent day at Pawsh Wash in Lawrence, the Rexroads explained how they began making it themselves. Their product, a plain white bag that looks like a feed sack with a red-and-black Love Grub logo slapped on the side (they say they can save customers money by not printing pictures of dogs on every bag), sat stacked next to them.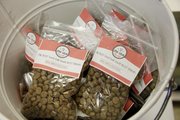 "It took eight months from the beginning to where we sit here right now on this bag of food," said Gary, 54, still seeming a bit surprised by their newfound business. "I never dreamed of myself as a dog food manufacturer."
That chain of events started when the Rexroads tried to order a new batch of the Nebraska food. They learned that the man who made it had died and his family had decided not to carry on the business. The Rexroads borrowed the formula, "modernized" it (code for removing out-of-vogue ingredients like corn, soy and wheat) — and Love Grub was born.
"We took a leap and ordered our first run of food two months ago," Gary said. "We're all in."
But, before going to market, they had to test it. They provided 20 local pet owners, most of them friends, with samples.
"This was the real moment of truth," Gary said. "If the food failed, we would not survive." Thankfully, the test dogs react much like Rex has: They liked it, and their body and digestive systems did, too.
That might have been the easy part. The couple never would have guessed how much went into running a dog food business: from marketing to pricing, packaging to labeling, sales to distribution — the list goes on.
The first person the Rexroads approached about selling the food was Amber Nickel, owner of Pawsh Wash and its sister store, Pawsh Pet Health Market.
"I was excited about having a local product in dog food," she said. "It's our job to find trustworthy businesses that will take care of our loved ones. It could be very dangerous if someone who doesn't care is making something you rely on for your pets' health."
The Rexroads say this is especially important in the wake of Americans dogs dying in recent years after eating food and treats manufactured in China.
"The thing that's special about our food is you know (the formula) and you know us," Gary said.
Love Grub, which is meant for dogs of all ages and sizes, is also priced right around the middle of the pack. And for the time being, the food is being made at the same plant — in Sioux City, Iowa — that manufactured the Nebraska man's chow.
The Rexroads moved to Lawrence from Hutchinson 15 years ago, when Gary took a job in the Kansas City area with Microsoft. Angie has worked at Schwegler as a certified service dog handler. All five of the couple's children either have attended or are currently going to Kansas University. Rex still spends his days in the classroom at Schwegler while Angie, 48, focuses on Love Grub full time and Gary continues his day job at Microsoft.
While they have dreams to go bigger, for now the Rexroads are sticking to Lawrence, selling at the two Pawsh stores, Checkers, Lawrence Farm & Feed Supply, Lucky Paws Bakery and Hy-Vee (they also supply the statewide service-dog organization in Kansas, Canine Assistance Rehabilitation Education & Services). This could be a lucrative market, as the couple say Lawrence has 15,000 dogs and spends $4 million annually on dog food.
A year ago, the Rexroads had no idea they'd start their own dog food company. Now, as Gary says, "Who knows where it will go?"
Copyright 2018 The Lawrence Journal-World. All rights reserved. This material may not be published, broadcast, rewritten or redistributed. We strive to uphold our values for every story published.