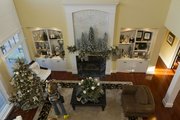 Holiday Homes Tour
12 p.m. to 5 p.m. Sunday
2013 Participating locations
4612 Woodridge Drive
1563 Alvamar Court
Smith Center at Brandonwoods — Holiday Homes Tour Boutique (craft sale, holiday décor and bake sale)
4733 Woodland Drive
2063 N. 1300 Road, Eudora
1507 Stratford Road
619 E. 8th St., Apt. 302
In its ninth year, the Holiday Homes Tour is featuring seven homes decorated for the holidays. The homes are mostly Lawrence houses, with one apartment in the Poehler Lofts and one home in Eudora, just off of Kansas Highway 10.
The tour benefits Health Care Access, a local nonprofit that provides health care to low-income, non-insured residents of Douglas County.
Kim Scarbrough Polson, communication and policy manager for Health Care Access, said, "There are no specific requirements for the homeowners other than a willingness to share their home with the attendees. Homeowners determine how much of their home will be open to the tour and most times opt to be there to 'host' their home for the event. We find it is a wonderful opportunity for homeowners to connect with people who go on the tour and proves to be a positive experience for all those involved."
The Holiday Homes Tour usually sees about 450 to 500 people go through the tour each year. There is also a Holiday Homes Tour Boutique at the Smith Center at Brandon Woods. At the boutique there is no entry fee, and shoppers may peruse holiday baked goods and gently used decor for sale. Artists and craftsmen also participate in the boutique sale, contributing part of their proceeds to Health Care Access.
Tickets are $15 in advance and $20 the day of the tour. Tickets can be purchased at both Lawrence Hy-Vee locations, both Sigler Pharmacy locations, Weaver's, at the Health Care Access Clinic or on the Health Care Access website (www.healthcareaccess.org). The fundraiser typically brings in more than $10,000 for the clinic.
One of this year's tour homeowners, Anne-Marie Whitman, said, " I've always loved decorating for Christmas and thought it would be fun to decorate our home for a cause. There are plenty of people who take the tour for Christmas decor ideas or just to get into the holiday spirit, and to think that it all goes to Health Care Access is a wonderful thing."
Copyright 2018 The Lawrence Journal-World. All rights reserved. This material may not be published, broadcast, rewritten or redistributed. We strive to uphold our values for every story published.