James Gillard was homeless when he first started attending the Lawrence Interdenominational Nutrition Kitchen's Thanksgiving dinner five years ago. Even though he now has his own place, he still showed up at the First Christian Church basement Thursday, not only to reconnect with old friends but to be living proof that things can get better.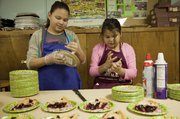 "I come down to share a ray of hope with homeless people I know that it could be them," said Gillard, 54, a Lawrence landscaper and bus driver, as he sat in front of the TV cheering on his beloved Green Bay Packers. The food isn't bad either, he added: "You can tell it's made with love."
Gillard was among the hundreds of people in the Lawrence area thankful to the volunteers and donors who made the free Thanksgiving feast possible Thursday. LINK expected to serve about 250 people in person, to go with the 460 homebound residents who had meals delivered to their doorsteps. An anonymous donor bought the turkeys this year while local businesses and organizations gave the rest of the food; LINK hired Maceli's to cook the turkeys, and volunteers prepared everything else.
LINK coordinator Greg Moore said he had people calling him months ago asking to volunteer, and that he had his crew filled by two weeks ago. They had an extra duty this time around, as servers poured guests coffee and tea. "We're trying to do things a little nicer this year," he said.
Jim Wicinski put his cooking skills to use, pro-bono, in the LINK kitchen Thursday. "It's more fun than having to go to my in-laws," joked Wicinski, 61, a former chef who now operates a horticulture business. He then turned serious: "There's a lot of people here who this is their holiday."
That includes Ronnie and Patricia Copp, of Lawrence, who have been coming to the LINK Thanksgiving dinner for as long as LINK has been hosting it.
So, how's the food?
"Hmm, good," said Patricia, 62, as she and Ronnie, 72, chowed down on turkey, mashed potatoes, stuffing, yams and string beans. She commented on how she had something else to be thankful for this Thanksgiving: beating cancer, which took the lives of two of her sisters.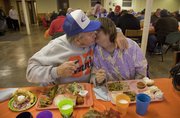 Jerry Nyhoff used to be the LINK coordinator; now he never misses a Thanksgiving meal in the church basement. "Its comfort food," said the Lawrence gardener, adding: "It's great that all these people volunteer."
However, he noted that there is value for people working on the most gluttonous of holidays. "It's probably gives them a little bit of an advantage of not gaining a little weight off the bat," he said. "It helps fight that holiday fat!"
About 20 people gave up part of their Thanksgivings to brighten the holiday for others Thursday. Among them were Anita Sotomayor and her four children (her partner and daughter's boyfriend also volunteered); the family helps out at LINK a few times a year, including on holidays.
"It's good to instill in my kids the value of helping other people and to appreciating what we have," said Sotomayor, 35, of Lawrence, who works in home health and eco-friendly cleaning. "Then we go home and have our own Thanksgiving afterward."
"It's fun," remarked her daughter, Ella, 10, as she handed out pie alongside her brother, Jules, 13, and sister Lourdes, 8. "I like serving because it makes people happy."
Copyright 2018 The Lawrence Journal-World. All rights reserved. This material may not be published, broadcast, rewritten or redistributed. We strive to uphold our values for every story published.