Education news
Have a story idea?
Contact Journal-World education reporter Elliot Hughes:
ehughes@ljworld.com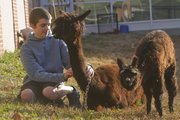 Here's how much science teacher Lucinda Crenshaw wants to get her seventh-graders at West Middle School reading over the holiday break: She offered to kiss a pig.
On the mouth, on the nose — Crenshaw said she was flexible as long as the students met their reading goals, but she warned her class the pig itself "might not be cooperative." And though they don't have a pig on hand at the school, they did have two alpacas, two chickens and an obese goat named "Maggie" foraging in the school's courtyard on Tuesday. The animals were also there as part of the school's effort to get the kids reading, as well as thinking about how much of the world beyond Lawrence lives.
It's all part of the Read to Feed challenge the seventh-graders at West are taking on. Read to Feed is a fundraising program developed and run by Heifer International, a charitable organization that connects people around the world who live in poorer areas with animals that can provide food and income.
Read to Feed tasks students with finding sponsors to donate money for the time they spend reading during a six-week read-a-thon. With the funds students raise through reading sponsorship, they will help purchase animals through Heifer International that can benefit faraway families.
The hope is the program will push kids to read more by offering incentives, such as getting Crenshaw to kiss a pig, or even a shark, as one student suggested. Teachers also hope the program will give students a broader perspective of the world by engaging them in a charitable enterprise. "It's often helpful for them to see and think beyond themselves" at their age, Crenshaw said.
By bringing live animals to the school for students to see and help take care of, the school is taking the program one step further by engaging students with the process of raising livestock.
The alpacas, chickens and goat were courtesy of Vickie Andrews, a para-educator at West, as a way to get students excited about Read to Feed. Andrews and her husband both grew up on farms and now live south of town on property that is home to more than 60 alpacas and a small herd of chickens.
Andrews calls the alpacas "very calm," which is ideal when bringing animals to a school of excited preteens. Andrews also said her animals had been happy and well fed in the courtyard as they grazed on grass and fallen oak leaves. The alpacas even found their chosen spots to leave "fertilizer," as some teachers have taken to calling the droppings.
"Fertilizer" is partly a euphemism, but it is also literal to some extent. Along with the reading challenge and foray into social giving, the students at West are getting a closeup view of a part of the food system often out of sight for folks in the city.
"We take for granted that our kids are not around animals other than cats and dogs," Crenshaw said. "We're so far away from that."
And the kids might already be showing a new awareness of the world, with all its many people and animals and the relationships among them. As perhaps a testament to that — or a testament to the seventh-grade sense of humor — Crenshaw overheard one student say during lunch, "Don't eat chicken nuggets in front of the chickens."
Copyright 2018 The Lawrence Journal-World. All rights reserved. This material may not be published, broadcast, rewritten or redistributed. We strive to uphold our values for every story published.